Posted on 06 May 2013
 Talented Southeast Asia answers critical questions for multinational corporations currently operating in, expanding or establishing operations in Southeast Asia.
What are the critical business issues for multinationals in Southeast Asia?
What are the key talent management implications?
How have the region's best organisations addressed those challenges?
Head over to the Talented Southeast Asia site to download a FREE chapter, or buy now!
Talented Southeast Asia Synopsis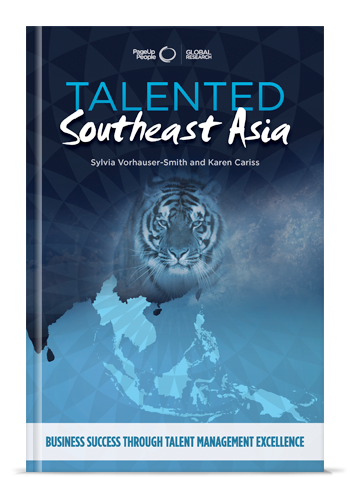 Why does the world need another book on the subject of talent management? After all, a quick search on Amazon.com reveals more than 7,500 titles on the topic. Yet, adding Asia to the search criteria winnows the list down to just 17. And qualifying it further with Southeast lands a result of 0.
Yet, Asia – especially Southeast Asia – is envied for its riches. This isn't a new business phenomenon. The resources of the region have been coveted since the days of Marco Polo. In the adventuresome spirit of those explorers before them, multinational corporations (MNCs) are flourishing throughout this area, bringing opportunities and building infrastructure.
The confluence of regional abundance and business prospects is not without challenges, and it is in this space that Talented Southeast Asia acts as a valuable business resource. Talent deficits are projected to be as high as 61% in the Asia Pacific region, and significant diversity exists – including education standards in some countries that are far below those needed to work at an MNC.
While eastern values previously guided "cradle to grave" employment models, Asian millennials are hard to engage and retain since job hopping has become acceptable. Furthermore, in cultures where being a disruptor wasn't historically encouraged, identifying and developing high potentials and leaders are not optional; they are crucial.
Written by senior executives who have lived and worked there, Talented Southeast Asia draws from more than 100 interviews with over 50 multinational corporations operating in the Southeast Asia region. A broad cross-section of industries are represented – such as consumer goods, energy, financial services and healthcare – and book contributors include business leaders, senior HR executives and HR directors.
Does the world need a book on talent in Southeast Asia? Home to 630 million people, the region represents one of the most exciting, emerging economies and one that simply cannot be overlooked. By 2050, Asia alone will represent 45% of the world's population. According to Forbes, nine of the ten fastest-growing mega-cities in the world are in Asia. In addition, McKinsey research places 63% of the world's 440 fastest emerging cities in this region, which will add a billion new consumers and a total purchasing power in excess of 10 trillion dollars to the global economy.
But perhaps even more compelling than the impressive statistics that come from the region is the shift in mindsets and methods as this emerging market, home to one of the youngest, most tech-savvy, mobile and socially connected populations in the world, reinvents the meaning of talent management. The book challenges entrenched HR paradigms and offers fresh insights that demand attention.
Opportunity is knocking, and its name is Talented Southeast Asia. Whether currently located in the region, planning to expand into it, or a leader of profound change, we're sure you'll find this book of interest.
Learn more about how PageUp can help at www.pageuppeople.com or follow us on twitter.com/pageuppeople.
Testimonials
"Little detail often exists for talent management data and best practices in Asia, let alone Southeast Asia. Talented Southeast Asia is a rare find with both the data and the stories that bring to life the real picture of what's required to up level the profession."
R 'Ray' Wang
Principal Analyst & Founder, Constellation Research, Inc.
"Executives will always fail whenever they (often unintentionally) superimpose their Western values, business concepts, etc. on their non-Western business operations. While that's obvious, it's also human nature that people will do what they have been taught to do or repeated in their career. This book takes out a lot of the risk that strategists, executives and other business people will face when they look to expand their business' presence in one of the biggest and booming parts of the business world: Southeast Asia. The guidance here around talent is illuminating as it reminds us that this economic sector can be successfully navigated if a businessperson heeds its counsel."
Brian Sommer
President, TechVentive/ZDNet
"As companies expand their global footprint, understanding the role of talent in various parts of the world is critical. This book provides organisations with the expertise, best practices and insight they need in order to implement talent management strategies in Southeast Asia."
Madeline Laurano
Research Director, Human Capital Management, Aberdeen
"The Nexus of Forces – cloud, mobile devices, information and social networking – is having a profound impact on nearly every area of technology, including the talent management market."
Jeff Freyermuth & Ron Hanscome
Analysts, Gartner
"Talented Southeast Asia offers extensive insights and plentiful advice for creating incredibly successful companies through great talent management!"
Marc Effron
President, The Talent Strategy Group
"Young and ambitious, SEAs' population is ready to grapple the challenges of the 21st century. If you want to increase your chances of attracting, engaging and retaining this disparate group of young people, you must be aware of the cultural, political and economic differences you face. This is the first book to offer succinct and clear suggestions on how to overcome them. Highly recommended."
Kevin Wheeler
President, Global Learning Resources Inc.
"PageUp's Talented Southeast Asia is a long overdue and much appreciated contribution to understanding how each country's culture impacts our understanding of Talent Management. The conversation about global integration needs to get beyond a headquarters mentality and PageUp has taken the first step up."
Gerry Crispin
Principal & Co-Founder, CareerXroads
"Great talent management is a global endeavour. There is no greater catalyst for success than aligning the right talent with the right work."
Elaine Orler
Candidate Experience Awards Chair and President, Talent Function Group
"Each organisation has its own unique talent management fingerprint. There is a fully mature regional talent management culture in Southeast Asia. This book will help you develop yours."
John Sumser
Principal Analyst, HRxAnalysts
"All of the HRM and HR technology industry leaders, influencers and observers cite the importance of globalization in talent management, but how many of us have really experienced TM beyond North America and Western Europe? With their unique perspective on the talent management landscape of Southeast Asia, PageUp People's book is a welcome addition to our collective knowledge."
Naomi Bloom
Managing Partner, Bloom & Wallace
Watch the Launch Event Video