Posted on 24 Mar 2017
The United States has seen a steady decline in its unemployment rate with a surplus of job openings. Join as we explore the cause and effect of this phenomena in our blog series How HR can Catalyze Change in the U.S. Economy. Part 2 of this series examines the shift away from routine jobs and the call for targeted skills training.
Part II: The "New" Collar Workforce
By Robert Hill, Senior Vice President – North America, PageUp
As reviewed in Part I: Demand vs. Supply—Business Has Offset Education of our blog series How HR can Catalyze Change in the U.S. Economy, the competitiveness of our education system has gradually fallen–with the U.S. experiencing a decline in workforce participation from 1997 onward.1
Of the 7.2 million jobs lost between 2007 and 2010, 5.6 million (or 78%) were of those who held no more than a high school diploma. Over the past six years, only 1% have recovered.2
According to a recent report from the Center on Education and the Workforce at Georgetown University, 8.4 million (or 72%) of the 11.6 million jobs created after the Great Recession went to those with at least a bachelor's degree.3
"College level skills determines access to decent jobs now," said Anthony Carnevale, the center's director and lead author of the report. "The modern economy continues to leave Americans without a college education behind."
With so many jobs going to those with a college education, the daunting reality is that close to 70% of Americans will study at a four-year college while only 1/3 will graduate.4 This means that a large majority of job-seekers reside in the middle skills gap, where they've earned more than a high school diploma, but less than a four-year college degree.
Many argue that this is a direct result of the lack of education related to practical job training that employers find necessary, the economic crisis, and the automation of routine roles.
The Fall of Routine Work
The fact that there has not been a recovery in jobs requiring a high school diploma or less is because the nature of work itself is changing.
The nature of work can be categorized into a matrix of four types of tasks:
Routine

: predictable, well-defined, and follows a closely prescribed sets of rules and procedures; executed in a controlled environment.

Non-routine

: requires flexibility, creativity, or human interaction skills; unique.

Cognitive

: abstract problem-solving or analytical work; unstructured.

Non-cognitive

: does not require abstract problem-solving skills but nevertheless difficult to automate because it requires some flexibility in an unpredictable environment; manual labor.

8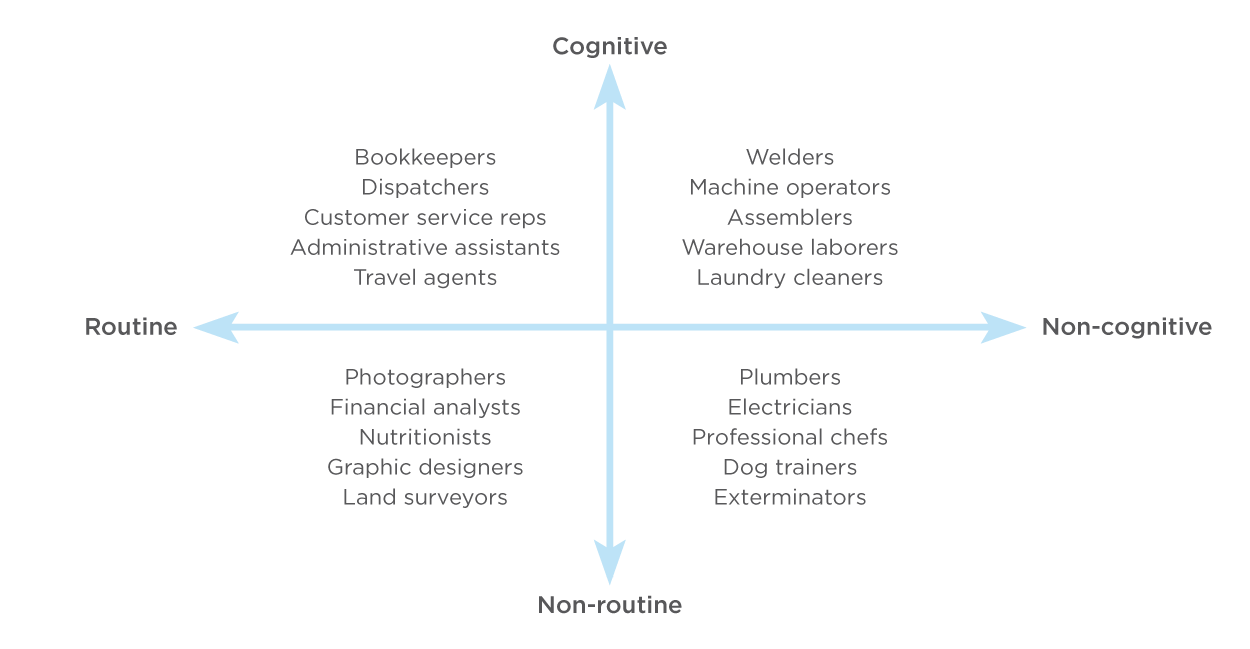 There's been a significant reduction in the number of U.S. jobs that can be characterized as routine. From 1982 to 2012, routine work dropped from 56% to 44% of the workforce.7 Routine jobs are under pressure because the nature of the job can be clearly defined, making them much more subject to alternative ways of getting work done.
Assembly line routine jobs were easily automated by way of robots; the explosion of Silicon Valley ignited the ever-present gig economy; and routine staff workers are being replaced with automated, systems-generated, and labor-saving tools.
The Rise of Soft Skills
As non-routine, cognitive positions continue to dominate the job spotlight, characteristics such as interpersonal skills, emotional intelligence, the ability to manage emotions, communication, leadership, collaboration, adaptability, and problem solving are critical to success in today's workplace.
A new study from Boston College, Harvard University, and the University of Michigan found that soft skills training, such as communication and problem-solving, boosts productivity and retention by 12% and delivers a 250% return on investment based on higher productivity and retention.5
As the importance of these skills rises to the top of hiring managers' 'must-have' list, employers are forced to adjust to new job qualification standards.
In fact, executives now consider these skills important to fostering employee retention, improving leadership, and building a meaningful culture. An overwhelming 92% of Deloitte's respondents rated soft skills as a critical priority, according to Deloitte's 2016 Global Human Capital Trends report.6
A few U.S. employers are embracing the call for additional skills training:
Gap Inc.

for Community Colleges

 prepares students for long-term success by developing the skills in demand by employers, building confidence, and establishing a connection to a major employer. In an increasingly competitive job market, this program utilizes upskilling workshops to combine the theory of leadership skills with "real life" applications and unique perspective from Gap Inc. store leaders.

9
The Boeing Company

Learning Together Program

is committed to the success and professional development of its employees. That's why the company offers tuition support to those pursuing continuing education or degree programs that are relevant to their career. By taking advantage of tuition support and professional training courses, Boeing employees have an excellent opportunity to enhance their job prospects, whether they are looking to advance within their current career path or move into a new position within the organization.

9
LaGuardia Community College

partnered with

Accenture

to provide the Skills to Bookkeeping scholarship program to low-income, non-native English speakers with experience in bookkeeping. The curriculum focused on language skills, résumé writing, interview coaching, and other professional skill building.

9
Conclusion
Americans understand the need to maintain a competitive economy, but the hard work lies among the key players in America's middle-skills system accepting and embracing change.
U.S. vocational programs are few and far between and educators have limited access into the job market, resulting in a declining reputation with business leaders as the education system has become an ailing source of qualified workers.
Middle-skill jobs require a skillset best learned by doing, and we must be willing to make the investments necessary to close the skills gap. Employers must take ownership in their communities, while educators must help students develop a sense of early ownership over their careers.
Closing the middle-skills gap will require a new mindset, action plan, skills-training attention, and close collaboration between educators and employers in order to put Americans back on a track to achieving middle-class income status and a decent standard of living.
How do we educate those who have lost their jobs and prepare our students to thrive into today's workforce? Join as us we explore How HR can Catalyze Change in the U.S. Economy in our final blog that delves into the role higher education can play in building the talent management pipeline.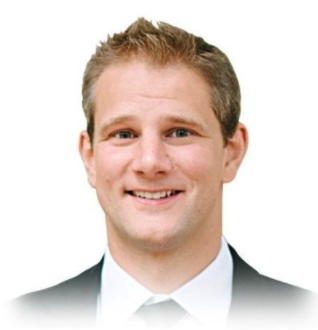 About the Author: Robert Hill
Rob Hill leads the North American PageUp team and has 15 years of experience in leadership roles in software development, product management, and solution selling across a variety of industries. He has expertise in SaaS, web and mobile technologies, cloud computing, lean methodologies, program management, and product development. Rob has been with PageUp People for over 8 years, specializing in assisting clients achieve business impact through Talent Management Technology. Rob is an alumni of Harvard Business School and Swinburne University of Technology's BIT scholarship program.
References: