Posted on 07 Oct 2013
If you have read our previous HR blog pieces you know that every so often we like to share stories from our team, whether it be product insights, TuneUp reviews or career journeys so we thought it was about time we had another PageUp member tell you about their career thus far.
Meet Aaron Hardy, Solutions Engineer in Singapore.
Customer Service Indoctrination
Every now and then I ponder the source of my passion for people systems. I think in the end it comes down to two things, a pure love of all things technology, and some key pieces I learned in customer service at a Telstra Shop earlier in my career.
A lot of the people who came to our store had no concept of where the person in front of them began, and the corporation or brand that they were buying from ended. It wasn't uncommon to have to step in and calm down a customer who had started to become verbally abusive (this was around the time that CDMA, the country network at the time, was phased out and NextG introduced).
Having to remind someone that they were speaking to another human seemed odd, but necessary at times. We had coffee and donut vouchers for a store directly opposite ours which a) caught people completely off guard when it was offered and b) once they'd gone off to ponder their bad behaviour over a sugary treat, brought them back in a generally apologetic and more co-operative mood!
The strong focus on customer service and the connections we made with people meant that little marketing needed to be done – word of mouth was the most effective way to bring new customers in. I think this is where my passion started – systems facilitate the relationships between people, but we can never forget how important the one-on-one interaction is.
I want to build systems that encourage the strongest relationships with the people around us, and allow everyone to not only excel at what they do but enrich the lives of people around them in the process.
Hogan Assessment Tools in Coaching & Louise was a Great Boss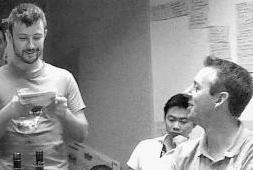 Sometimes our friends have a better idea about where we should be heading with our careers than we do. I was referred into PageUp by a great friend of mine, April, who was helping the business find a replacement as she prepared for the amazing journey of becoming a mother for the first time.
I hadn't even considered a career in 'corporate', and to be honest wasn't really aware how different providing customer service to large multinational B2B organisations would be.
Despite spending some of the most grueling months of my life learning the ropes, the mix of technology and customer service at that corporate level was more rewarding than anything I'd done so far. And don't get me wrong, there were times I really didn't think I had it in me to shepherd the likes of BHP Billiton, ANZ, and Coles through best use, and continuous improvement within our platform.
One person who really changed things for me was my first real manager – Louise Polednik a wonderfully inspiring Organisational Psychologist, who taught me the value of psychometric assessment beyond the purposes of talent acquisition. The instruments (amongst others) we used were the Hogan Assessment light (or bright as I think it now is) and dark sides of personality.
One of the key areas we worked on was influencing – and in particular influencing without treading on people's toes (a character trait I still need to be reminded of on the occasion). Later on in my role as a Product Manager working on Performance, Succession, and Career Development, I took inspiration from the idea that anyone could have this experience through our software – not just the lucky ones amongst who had happened to land an exceptional manager.

Cake and Clients
I've had the privilege to work with some amazing people over the last 5 years and I'll share one of my favourite quirky experiences with clients that to this day make me smile. I won't name the client but they'll know and will likely get a chuckle or two too.
This client was one of the first I was involved with back in 2008 , they'll remember me in a training session getting them to do the 'I've accidentally stepped on an ant nest' stretches to keep people engaged (another story I guess). I'd heard a few battle scars stories from the several staff who'd worked with them previously and this did ring true at the monthly IT meetings where we'd start with SLA's and work through a fairly cold list of items.
Skip forward to a couple of years later, we are in one of the last meetings before I transitioned into implementation. Through a lot of hard work on numerous projects over those years, we had gotten to the point where it was perfectly normal for me to bring out a Chocolate Guinness cake. The rating of this cake quickly became an agenda item.
Customer service can take many forms but I think there always needs to be something that sets us aside from the rest and I really do like to put my own personal stamp on things.
Implementation & Self Insights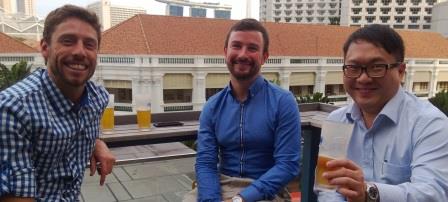 My first role change in PageUp brought me into the world of Client Delivery. Lists and checkboxes for me have always been for when I'm losing focus and need to get things back on track. Lists and checkboxes as an Implementation Analyst is what you do every day. I learnt a lot about myself working in this role and about my work preferences in particular.
I was very lucky to work on some amazing projects, implementing our software for Monash University, Telstra, and Onesteel (now Arrium). The conversations were always valuable and allowed me to see the system in a completely new light. I think of this as my 'learning the ropes' of the business phase, one necessary to gain a greater appreciation of what the amazing guys and gals in Client Delivery do every day.
After six months and way too much stress, I was transplanted from this team into the Product Management area of the business a role that I couldn't have been more suited to. It's a credit to PageUp that we can work with people to find the best role for them, even when that may not be the role they're in right now.
So…this only gets me halfway through my journey with PageUp. Next time I'll cover my journey in Product Management, up to present day over here in Singapore.
Follow Aaron on Twitter @hardyproduct