Posted on 10 May 2018
The nature of retail is evolving – from self-service checkouts at supermarkets to automated stocking systems and online shopping.
On top of those industry changes, the expectations of employees and candidates are different. Reward remains important, but more and more candidates are looking for a job with a company whose values align with their own and where they can learn and develop. Their expectations of the candidate and employee experience are also far greater than ever before.
Finding quality candidates takes time, but with the right approach, you can attract quality and quantity without paying exorbitant advertising costs. In fact, by streamlining their approach to hiring and using the right tools, many retailers are finding that they can increase the quality and quantity of new hires and save money. We've put together this guide to show you how.
We'll cover:
Understand what candidates are looking for
Know what you have to offer
Create a compelling employer brand
Create a solid hiring strategy informed by data
The right tools
How Lindt saved $1 million on hiring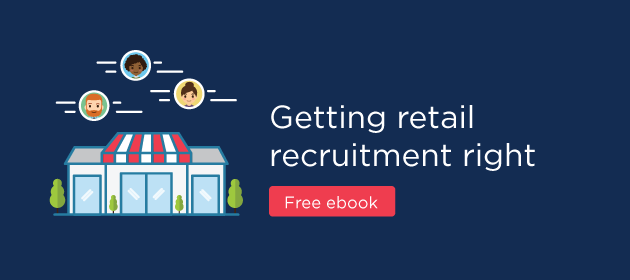 Understand what candidates are looking for
Do you know what candidates are looking for in a new role? People are unique, but there are trends in what drives us.
You may already have data that tells you what's important to employees at your organisation, and it stands to reason that if you're trying to hire people like them, they'll have similar drivers. If you've done an employee engagement survey, or any other employee survey, you might already have the information you need. In any case, you'll have an understanding of the traits of your superstar employees and that's often a good starting point to find people like them.
Candidate personas
Creating candidate personas allows you to clearly articulate what you know about ideal candidates and focus on what motivates them and where you might find them.
Think about your most valued employees and create a few personas for the kinds of people you'd like to have as candidates.
You can give them a made-up name and write down their attributes, perhaps including: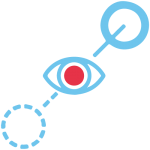 Skills and education

Personality traits

Rational needs

Emotional needs

Interests

Communication styles
The aim of personas isn't to use the information in job ads, but to understand the needs of the candidates you're looking for, so you can successfully attract, hire and retain them.
Common drivers of employee engagement and commitment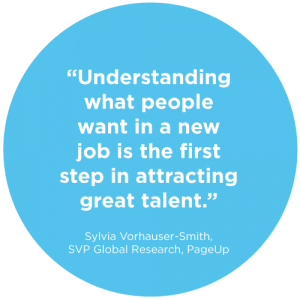 Retail employees, especially those who work on the front line, are different from employees in almost any other industry (they're most similar to hospitality employees). Notably, retail employees tend to be motivated by reward – they will choose an employer and leave an existing job depending on how much money they can get. Employees in other industries are motivated by reward but they tend to be paid more overall, so once a certain level of hygiene is reached, they're more likely to make a decision based on learning and development opportunities rather than money.
Pay isn't the only deciding factor for retail employees though. They want to work for a company where:
they can make a contribution to their development
leaders demonstrate people are important to the company's success
total compensation is fair for the market
they're given opportunities to develop skills relevant to their interests
there are good career opportunities
a vision has been communicated to them that resonates with them
they receive recognition for good work
they see that promising or innovative ideas are acted upon
they have confidence in the leaders
the main products and services are as good as or better than competitors'
A key pain point for retail employees is getting time off when they need it. If you've solved this, or have a great system to try and help, you'll stand out from the organisations you're competing with for talent.
How City Beach supercharged their casual recruitment
City Beach is an Australian lifestyle retailer that started in 1985 with one shop in Brisbane, Queensland. Today, with more than 60 stores across Australia as well as an online store, the retailer has become a part of many Australians' lives. But being in the highly competitive retail space means that the company needs to evolve constantly in order to remain successful. City Beach recognised the opportunity to introduce a full end-to-end talent management suite to automate processes throughout the entire employee lifecycle.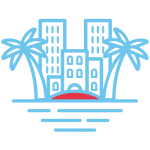 City Beach had been using outdated processes and recruitment workflows, so the company sought a platform that could meet its changing hiring and talent management needs today and into the future as it expands. City Beach didn't just want to replicate its existing manual processes, but rather transform its entire recruitment and onboarding function, adding value and making a difference throughout the employee experience.
Driving the imperative toward a new approach was the rapidly approaching Christmas season, in which the company increases hiring dramatically to bring in Christmas casuals who are engaged on a fixed term contract. In preparation for its peak season, the company was challenged with implementing an automated talent management system to launch new streamlined recruitment and onboarding workflows.
The focus
Working with talent management platform PageUp, City Beach performed a data analysis of past practices, including its peak Christmas period hiring per region in 2013 and 2014, as well as a demographic review to pinpoint the target markets for candidates. With the recruitment and onboarding system live in August 2015, the company was ready to launch its Christmas period hiring campaign in the last week of October, with the goal of reducing costs and time-to-hire, increasing the quality of hire compared to previous years and enabling new hires to be productive from day one.
Achieving these goals entailed engaging candidates by demonstrating what it would be like to work for City Beach, highlighting its unique culture and what candidates could expect on the job. To do this, City Beach created YouTube videos showcasing its culture and demonstrating what would be expected of its temporary holiday workers, and launched a robust social media campaign on Instagram and Facebook to further drive traffic to its new career site.
"Being a youth employer, they are a demographic that has a heavy reliance on technology and social media," says National Human Resources Manager, Mirela Lane. "For the first time, we have been able to incorporate social media and things like YouTube videos into our recruitment and onboarding processes. This has been invaluable and has reaped enormous benefits for City Beach."
The solution
City Beach achieved enormous success with its Christmas casual recruitment campaign, with 15,000 new candidates registered, representing 15 suitable candidates for every vacancy within the first four hours of posting the roles on their careers site, with no other advertising.
Within eight days of the launch, more than 1,100 casuals were selected and hired. And during what is typically a time of high turnover, 100% of these casual team members completed the entire eight week tenure. All this was accomplished without any advertising costs or additional working hours. The company also now benefits from a pool of qualified talent it can turn to for future openings.
Know what you have to offer
Each workplace has a unique culture and offerings for employees. We communicate this culture and these offerings through an Employee Value Proposition (EVP).
It's worthwhile taking the time to get your EVP right. The benefits of an attractive and authentic EVP include:
50% reduction in compensation premium for new hires

50% deeper reach into the labour market to attract passive candidates

69% reduction in annual employee turnover

29% increase in commitment of new hires
Your employee value proposition should capture what it's like to work at your organisation. Your values and employee benefits will come into play, and it's worth highlighting any that address the common drivers of employee engagement and commitment we mentioned above.
Employee Value Proposition (EVP):
The unique set of offerings and cultural factors that appear to current and prospective employees. Your EVP provides a consistent platform for employer branding.
Four ways to stand out from the crowd
Best-in-class training

A compelling mission and authentic values

Market-leading products

Opportunities for career development
Create a compelling employer brand
Once you have your EVP, it's time to create an employer brand. Your employer brand is how your organisation is perceived as an employer, as distinct from your corporate brand. The employer brand is underpinned by your employee value proposition.
Your employer brand is communicated through your careers website and job advertisements, but there are other ways your employer brand is communicated which aren't as easy to control.
Word of mouth has always had impact on employer brand, but now candidates don't need to know people who have worked for your organisation to get their insights. Third party review sites like Glassdoor allow for ranking of companies and CEOs by current and past employees. Candidates often check these sites before applying for or accepting roles. It's important that what you promise in your employer brand is delivered in your employee experience.
Employer brand essentials
A compelling employer brand is
Attractive
Your employer brand needs to appeal to prospective new hires. Candidates find information about culture and values, perks and benefits and mission and vision most helpful when they are considering a company.
Ask yourself: Have you incorporated what you know about what employees want into your employer brand?
Authentic
Your employer brand needs to reflect the actual workforce experience of your employees. A common reason for people leaving businesses is that their expectations of the role they are recruited into aren't met.
Ask yourself: Have you defined and validated your EVP? Is it clearly communicated in an employer brand statement?
Visible
Your employer brand needs to capture the attention of the right people to generate awareness of your company and what it offers.
Ask yourself: Do you have a clear picture of the audience that you are communicating with? Capture this in candidate personas and consider current and potential employees.
Do you know the websites and social media platforms that they prefer?
Bringing your employer brand to life
Once you have a clear picture of your candidate personas and your employer brand, you're well placed to create communications, job descriptions and advertisements that capture your personality as an employer and will attract the right people.
For each communication, keep in mind the person you're trying to attract. For recent graduates or people who haven't had a job before, will they be aware of the name of the job role you're advertising for? Is there another way to get their attention if they're not searching for it? Perhaps telling the story of someone who does that job in your organisation through an 'A day in the life' blog, video or LinkedIn or Facebook post would be more effective?
Consider how you can communicate your culture and the type of person you're after with descriptions of personality traits, for example: 'collaborating with your team to quickly find solutions excites you'; 'you're always looking for new ways to delight customers'.
Employer Brand:
How your organisation is perceived as an employer, as distinct from your corporate brand. The employer brand is underpinned by your Employee Value Proposition.
Create a solid hiring strategy informed by data
So now you know what candidates are looking for, what sets you apart as an employer (your EVP) and how to communicate it (your employer brand). Now it's time to start recruiting.
Where do you find great talent?
Job hunters can research employers and search for jobs through a plethora of different tools. It's up to organisations to make sure they're in the right place at the right time to attract the best talent.
The top channels for applications can be different from the top channels for hiring, that's why it's important that you've got the right analytics and are not overinvesting in channels that deliver lots of applications, but no actual hires.
Taking a look at PageUp's data from over 4 million retail applications, we see these key channels for applications and hires.
Top channels for applications & hires
Career site
Having regular communications about available roles and the ability to easily refer a friend or share jobs via social media on your site allows you to reach qualified talent.
Job boards
Job boards are also key sources of applications, although as you can see above job boards are the number two source of applications and the number three source of hires. Quite often once an organisation implements an Applicant Tracking System which provides data on sources of applications and hires and allows them to improve their own careers site, their spending on job boards is decreased dramatically.
Talent relationship (existing candidate pipeline)
Building a pipeline of passive candidates, or keeping in touch with people who have applied for roles in the past or walked into stores to hand in their details is an excellent way to fill roles quickly and at a lower cost. For retailers serious about building a pipeline, having a quick and easy way for candidates to apply in store or get the information they need to apply at home is essential.
Designing your hiring strategy
Defining your hiring strategy will enable you to invest in activities that lead to better new hires, faster. This four-step approach will ensure that you deliver a well-informed strategy:
1. Internal analysis
How do you measure quality of hire today?

Where do you find your best quality hires? And how long does this take?

To what extent does the quality of hire and time to hire vary across different roles? What patterns can you identify?
2. External market scan
How do your best hiring channels compare to organisations you compete with for talent (these may be within or outside your industry or region)?

What can you learn from companies that are using Talent Relationship Management (e.g. employer branding, proactive sourcing, talent pipelining)?

What other hiring channels are available (e.g. employee referrals, specialist job boards, professional associations, third parties)? Familiarise yourself with different technologies and strategies, and make a comprehensive list of options, their pros and cons.
3. Strategy development
Based on your internal analysis and external market scan, identify the hiring strategies that you would use in an ideal world to attract top talent. Now prioritise, taking into account the constraints that you are operating within. Consider how you can use a Talent Relationship Management solution and different channels for different roles to achieve the greatest impact.
4. Measures of success
Develop targets for:
Time to hire

Quality of hire

Hiring manager satisfaction




These may vary for different roles.
Talent Relationship Management (TRM):

Proactively developing and nurturing networks of talent (employees, contractors, freelancers, applicants) to ensure that the right people are available at the right time to meet company needs. Based on the fundamentals of Customer Relationship Management
How many employees do you need?
It's tempting to offer a job to as many promising candidates as possible – often some don't work out and others move on. But is it possible there's another way? By hiring fewer, better employees you'll not only be building an excellent (rather than just satisfactory) team that's more engaged, you'll be able to offer those employees more hours. Advances in rostering software and self-serve shift swapping mean that arranging cover when employees need time off should be easier.
The right tools
Recruiters that use TRM tools make three times as many offers as recruiters who don't, and their offer acceptance rate is 93% (4% higher than market average)3. Talent Relationship Management tools streamline the recruiting process in many ways.
As features include posting jobs to job boards, bulk sorting and responding to applicants, building passive and active talent pipelines and even onboarding and succession planning, TRMs save HR teams a lot of time which can be invested in more strategic work. As technology evolves, comprehensive platforms are available which integrate with core HRIS, rostering and compliance platforms.
Choosing the right HR tech for your organisation
Choosing HR technology partners can be daunting. The time required for implementations and the cost of the platforms themselves can be significant. But the return on investment is also significant: not only in savings for the bottom line, but in improved candidate and hiring manager experience, uplifted processes and time saved.
Here are some pointers for choosing the right talent management  technology for your business:
Agile and cloud-based
Your solution of choice should be flexible to meet current and future business needs. The market is mature; don't settle for compromise.
Candidate and employee experience
Opt for a Unified Talent Management platform that delivers one consistent experience and make sure it works well on people's device of choice (smartphone, tablet, laptop, etc.). Many companies don't have a mobile-optimised careers website. Getting this right could differentiate you from your competition.
Bulk action and powerful automation
The solution should facilitate more efficient processes for your team, from bulk actions to send unsuccessful communications through to scheduling group and individual interviews and making offers.
Recruitment marketplace
Choose a solution that integrates with specialist providers, job boards and social media channels. This will streamline your processes and enable you to attract candidates through a range of channels.
Employer branding and marketing
Ensure you have access to recruitment marketing capabilities that enable you to promote your employment brand to top talent and attract them to work with you. Our recent whitepaper on Talent Relationship Management discusses this in more detail.
Hiring manager enablement
Any solution you implement must be user-friendly for this important stakeholder group and make it easy for them to attract, recruit and manage people. Engage early and involve one or two hiring managers in your vendor selection process. Explore whether some hiring managers and sites are able to share the same candidate pipeline and talent pools.
Embedded people analytics
Analytics are no longer optional. They should be embedded in your talent management solution to measure the efficiency and effectiveness of your practices and support strategic decision making.
Onboarding
Onboarding should begin the moment an employee accepts an offer. An online onboarding and learning solution allows candidates to arrive on their first day having completed their paperwork and online learning modules (for example on safety and brand).
Security
Look for a provider that has Security Certifications for their product. ISO 27001 is a good example. This means that the controls they implement are externally audited at least once a year. Check the scope of the certification: it can apply to an entire product, or just particular modules. The entire platform should be certified. Organisations that go above and beyond will be able to produce their Security Certifications, provide the controls they use across the platform, have an appropriate scope and be verified by third parties annually.
Unified Talent Management System (UTM):
Software that streamlines the entire employee lifecycle, from recruitment to onboarding, performance management, learning and succession.
Recruitment Management System (RMS):
Software to manage the entire recruitment process, including your careers website. Also known as an Applicant Tracking System (ATS). This may be part of a Unified Talent Management system.
Recruitment Marketplace:
The collection of different technologies used to attract and recruit top talent. An established marketplace integrates tools from various providers to create one consistent experience for candidates and recruiters.