Posted on 01 Sep 2017
What do you get when over half of the National Infrastructure Delivery Plan (NIDP) is attributed solely to a sector with a 24/7 service commitment to over 65 million customers in the UK?1 And one which also happens to be facing a skills shortage of unprecedented magnitude?2 Challenging times for energy and utilities organisations. But challenges are indicators of opportunities.
In the face of an increasingly competitive talent environment, the energy and utilities sector predicts that 221,000 vacancies will need to be filled within the next decade – brought about by 100,000 existing employees (20% of this sector's workforce) set to retire, and 90,000 people who will leave to find new roles. Furthermore, 36% of hard-to-fill vacancies in the UK energy and utilities sector are driven by a lack of proficient skills – well above the 23% national average and notably higher than any other sector.3 It is in this dynamic landscape that strategies to recruit and retain talented personnel must be identified, developed, and implemented.
Tony Cocker, Chief Executive of E.ON UK and Chair of the Energy & Utilities Skills Partnership, summed up sector concerns: "We face an ageing workforce, increasing competition for talent with unemployment reaching its lowest recorded levels, and a lack of proficient skills, leading to over a third of vacancies being hard-to-fill."4
Even with the government's STEM initiative in schools, not enough students will move through the education system in time to meet the current shortfall.
In the UK nuclear sector alone, the number of employees needed could grow from 88,000 to over 100,000 in 2021, if a new build goes ahead.5 The skills shortage facing the nuclear sector is exacerbated by the ageing demographic – many technical specialists joined the industry during its last boom in the 1980s. This means an average of 6,830 full-time jobs are expected to be created across the UK nuclear sector every year until 2021.6
Similarly, water companies have backed the new strategy to bring in the aforementioned 221,000 new recruits in the utilities sector by 2027 to help ensure customers will continue to get the essential service they need in the future.7
Thriving in Uncertain Climates
The key to not only surviving, but thriving, in this environment, lies in revolutionising talent acquisition and retention. We have already seen a commitment by the Energy & Utilities Skills Partnership to invest in retraining and upskilling the current workforce, working towards an increasingly professionalised workforce, and implementing innovative new approaches to talent retention and building talent pipelines.8
The organisation that harnesses the power of HR and workforce analytics to benchmark and forecast the labour force and utilise the full power of recruitment and talent management technology will emerge from this landscape victorious in ten years, with an empowered and engaged workforce.
Learn more about how UK energy and utilities organisations can win the war for talent in today's climate – download the eBook Recruitment: the New Normal for UK Energy & Utilities

References:
---
About The Author: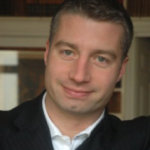 Nick Adams
Sr. Vice President – EMEA, PageUp
Nick leads the PageUp team in EMEA with his extensive background in working with leading organisations to build world-class Talent Management solutions to identify, attract, assess, develop, and retain A-players. His expertise lies in partnering with organisations to align talent with business strategies to create an effective balance between global talent management and local operational variations.