Posted on 08 Feb 2016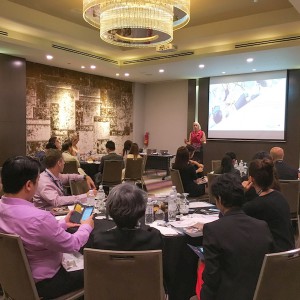 People management skills are essential in hiring and retaining people and getting the best out of them according to Don Chen, Research & Insights, at the Human Capital Leadership Institute (HCLI) who was a guest at the recent PageUp Government Breakfast in Singapore, hosted by CEO Karen Cariss.
In his presentation, Don shared the findings of the 2015-2016 Global Talent Competitiveness Index (GTCI) study*, which focused on the highly topical issue of international mobility and its impact on talent competitiveness and findings linked to the significant correlation between movement of talent and economic prosperity.
The key findings of the 2015-2016 GTCI were:
Mobility is vital to fill skill gaps.

High proportions of innovative, entrepreneurial people have either studied overseas or were born abroad. Faced with these new types of migration flows, decision makers need to shape policies and strategies to address both the immediate concerns of their constituencies and the longer-term interests of their citizens.

Top ranking countries now position themselves as desirable destinations for high-skilled workers.

The top three countries that ranked on talent competitiveness globally are Switzerland, followed by Singapore and Luxembourg, the positions they held in 2014.
As highlighted by Don, it is no longer about Brain Drain, or Brain Gain, instead it is all about Brain Circulation as organisations and nations manage talent mobility.
Karen followed and further highlighted the challenges faced by the public sector in Singapore which included:
How best to leverage technology to meet and exceed expectations.

How to keep these digital natives highly engaged so that they go the extra mile and are innovative

How organisations can retain and develop their young talent.

How micro-experiences, such as brief projects or assignments, and micro-learning, for example bite-sized learning moments which can be digested quickly, are shaping Millennials' expectations of the workplace.

The importance of apps given that Millennials look at their phones 150x a day.

How to apply gamification in order to keep employees engaged in learning, interacting with the organisation, and giving kudos.
The full 2015-2016 Global Talent Competitiveness Index study can be downloaded here. And learn more about how PageUp applies these insights by reading our case studies and customer success stories.
*The GTCI is an annual benchmarking study, measuring the ability of countries to compete for talent.
Designed as a practical tool for governments, businesses and non-profit organisations, GTCI ranks over 100 economies according to their ability to develop, attract and retain talent.
Launched for the first time in 2013, GTCI is based on research conducted by INSEAD (led by Bruno Lanvin, Executive Director for Global Indices, and Professor Paul Evans, Academic Director, Global Talent Competitiveness Index) and the Human Capital Leadership Institute of Singapore (HCLI), guided by a distinguished Advisory Board and Academic Council. The Index is developed in partnership with Adecco, the world's leading provider of HR solutions.