Posted on 10 Mar 2015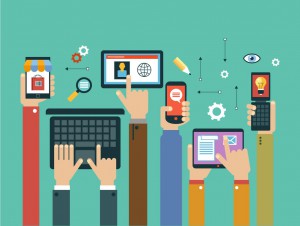 Mobile devices and social media are shaping the future of talent acquisition. Job seekers are ready and willing to use their mobile device, not only to search for positions, but also apply for them.
We surveyed Australia's Top 100 companies and found despite job seekers' preparedness to search and apply for jobs via their mobile devices, many companies are lagging in the execution of their mobile strategy.
Are companies embracing mobile and social media in-line with candidates expectations?  The answer is a resounding no!
Our recent research, Mobilise Now Australia, found that nearly 40% of Australia's largest 100 companies provided a poor search experience and over one-quarter had no online application process. Why is this important? The career site is the first impression many job seekers have of your company and first impressions matter. If job seekers can't find relevant information or apply for a job online you don't exist.
It is no longer enough to have a career site, it needs to be mobile-optimised and engaging. We found that nearly three-quarters of Australia's largest 100 companies' career sites are not mobile-optimised.  Only 45% engaged candidates on their terms and allowed them to pre-populate the application form with data pulled from social profiles or resume.  Those that get it right will obtain a competitive advantage, failure to do so means damaging your brand and more importantly talent will look elsewhere. Job seekers will not persist if the experience is difficult or clumsy.
Social media is shaping the future of talent acquisition and many companies are embracing social sourcing as a way to increase their exposure to passive candidates.  Very few companies, however, appear to be taking the next step of engaging candidates to help in this process with only half of the top 100 companies using social referral to reach untapped talent and only 40% providing job seekers with the ability to receive job alerts.
The most surprising result was 29% of sites were incompatible with iOS devices (iPhone). These companies inadvertently halved their candidate pool as they were not device agnostic. The application could not be submitted because a resume was required and the only attach option was from phone storage – which takes you to photos.  This is not an issue for Android devices as they have storage functionality.
One-third of companies were device agnostic. They saw all talent as they gave candidates the option of attaching a resume from Cloud storage.  This functionality was vendor specific – only PageUp enabled 100% of candidates to successfully and easily apply via a mobile device.
Are you mobile-ready? Being mobile-optimised provides a competitive advantage when faced with scarcity of talent and hard-to-fill positions. Companies that execute well on their mobile strategy are more likely to build a strong employer brand, reach passive candidates and engage active job seekers. Failure to act may mean losing losing talent to your competitors.
What does your mobile recruitment strategy say about your company?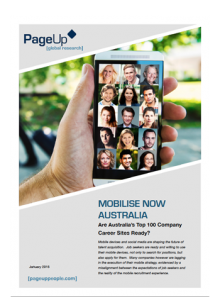 Download our latest whitepaper Mobilise Now Australia to get the full research results and for practical tips to help prepare you for the future of talent acquisition and the mobile revolution.