Posted on 05 Dec 2017
If your organisation has less than 1,500 employees, you've likely been told that you're going to have to make a lot of compromises when it comes to purchasing and implementing Talent Management technology.  You've been told that you're going to have a hard time finding a solution that will tick all of your boxes and still fit within your budget requirements. Perhaps you've started to consider playing Frankenstein by creating a patchwork amalgamation of smaller service providers – that almost certainly won't integrate seamlessly – to try and meet your needs.
We have great news for you: You don't need to settle for second best anymore.
The challenges facing SMEs are just as daunting as those facing enterprise-size organisations, and are no less deserving of dedicated, holistic Talent Management technology. Especially when your organisation is growing, it's imperative that you have access to technology that does more than just manage your payroll. You need a tool that's going to truly enable your business to grow and help you build a shining employer brand.
This is why we're excited to introduce PageUp Express to offer the very best in Talent Management software to SMEs. PageUp Express scales with growing organisations to make sure it always fits just right, without leaving gaps in your talent management strategy.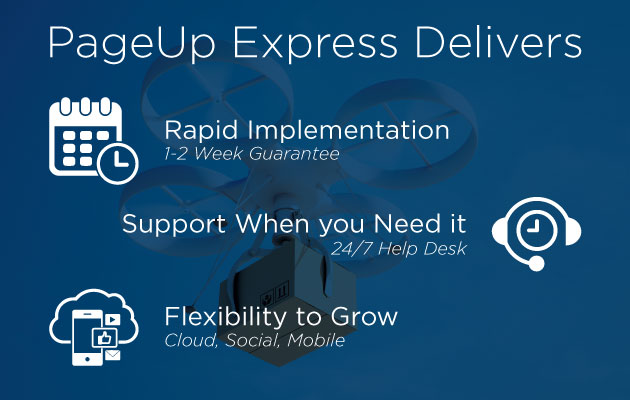 The PageUp Express Process
All of the beneficial outcomes, less of the expensive, onerous administrative processes.
Talk to our team to discuss your organisation's specific requirements

A customised live demonstration and a recording to share with any additional internal stakeholders

Expert one-week implementation of PageUp technology to meet your organisation's needs

Access to unparalleled support 24/7
With PageUp Express, growing companies get the best in talent management technology that people love to use, including cloud-based Recruitment, Onboarding, Learning and Performance Management.
If you have 500-1,500 employees, it's time to stop compromising on your Talent Management technology. You deserve a scalable, cloud-based, SaaS Talent Management Solution that will grow with you.