Posted on 20 Sep 2012
We have touched on the use of mobile phones as a recruiting source in some of our previous blog posts, so we thought it was about time we cover the topic in more detail.
Twenty years ago, the main medium of job advertisements was the trusty old newspaper but of course nowadays the World Wide Web has given us access to a staggering amount of possible online job sourcing locations, limited it seems only by a recruiter's imagination. As important as the newspaper is, or in this case was, it is fast becoming the same case for now traditional methods of job advertising.
Just as print has become less relevant, it appears the same is coming true for some of those initial and more traditional online mediums. More and more recruiters are finding that they need to react to the changing habits and expectations of potential candidates, and for many target applicants this means going mobile.
These days, candidates are not likely to be weekend job seekers trawling through job boards and newspapers looking for their next career move. Typically they are from varied industries, frequently on the move, and as a result, short on time; cue the handheld device, enabling a busy professional to make quick but informed and accurate decisions.
Where does this leave a company that cannot provide a mobile friendly careers site application form or referral solution though? They may very well lose out on that potential candidate because they'll only spend 5 minutes on their phone or tablet to browse and apply for a job.
To put into perspective how mobile usage has grown, recent research from Kleiner, Perkins, Caufield and Byers (KPBC) indicates that 10% of all internet traffic now comes from mobiles vs. 1% three years ago.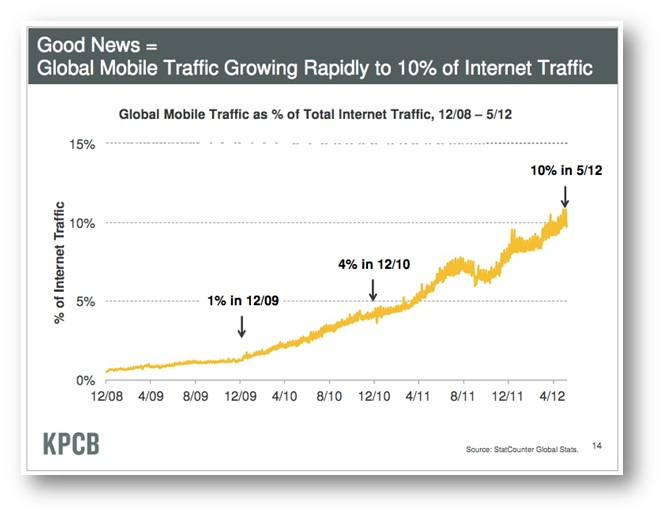 Further research from Beyond.com Career Network indicates that 77% all job seekers use mobile job search apps.  With such strong growth rates, and adoption of job searching trends, PageUp wanted to ensure that our client's careers sites could capture that candidate audience rather than turning them away or losing them due to an unfriendly, non-mobile optimised experience.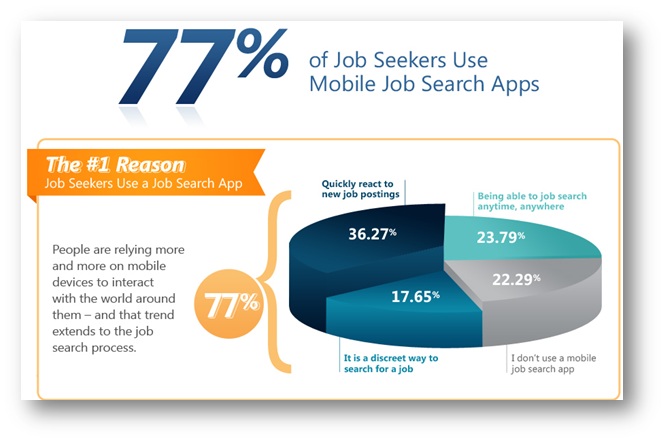 As part of the PageUp Careers site product, potential candidates are able to engage with your careers site via their phones or other mobile devices. Candidates will also see an optimised site adjusted for a smaller screen that it is easier to use when tapping versus clicking with a mouse.
At certain points our mobile experience now provides candidates a way to easily send themselves an application reminder and explains why some parts of the application process may still be better completed from a desktop or laptop.
Other enhancement that have been made for mobile users, include the ability for:
Ability for candidates to use their phone's geo-location capability to find jobs near them
Quick job alert subscription
Enhanced mobile device detection so candidates land on the mobile friendly site, not the standard website (where they need to zoom in & in & in & in….)
The ability to share a role via email, Twitter, Facebook, Linkedin, Yammer and more!
Increased usability updates for small screens
Ability for clients to add additional icons to their configuration for sharing and bookmarking on the phone's home screen.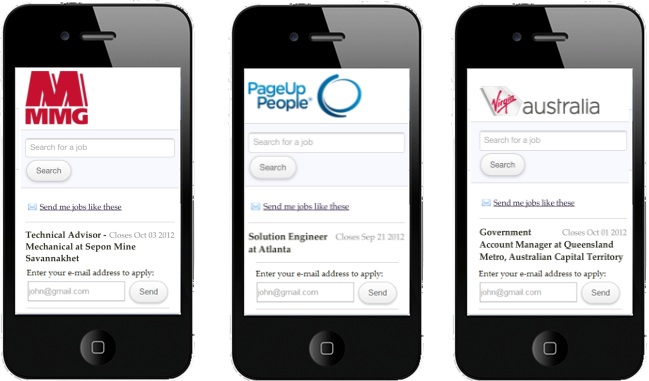 Even with a mobile optimised site, there are technology constraints for a candidate who wants to apply right then & there. Most recruiters want to see the candidate's resume but the iPhone & iPad have technology limitations which do not allow a file to be attached. Hopefully this will change in the near future although the question remains… does a candidate have a copy of their resume on their phone?
With the mobile career enhancements, we've added the ability for a candidate to easily send themselves the job information and are encouraging them to use a computer to apply.This way the candidate has the required information and can easily complete the application form you've selected.
Your careers site is now even more mobile friendly than before! Candidates can search & view roles, sign up for job alerts, easily search for roles nearby & apply. If you haven't moved to the new careers sites yet…then contact your technical account manager to find out about all the benefits for doing so.
Learn more about PageUp's  recruitment software or read some of our recruitment case studies now.