By: Karen Cariss, CEO and Co-Founder, PageUp
Posted on 27 Nov 2017
It's our 20th Anniversary in business this year – quite a milestone.
As I reflect on these past 20 years, 3 things jump out that have really contributed to our success:
our focus on the technologies of the future,
solving real business problems, and
transforming the user experience with technology.
Back in 1997, we were pioneers of cloud-based SaaS technology. In HR, this was embryonic – almost none of our competitors were in the cloud, and only a few large enterprises had an appetite for it. But we saw then that it was the future and sure enough, today it is mainstream.
We've been ahead of the curve in cloud, social and mobile technologies, as these have evolved and we've always focused on putting into the hands of our customers, technology they love to use.
At first it was about automation – that was our own business problem that required solving. As a young entrepreneur trying to build a custom technology business, I personally had the experience of being inundated with thousands of job applications, on paper and sent through the mail, that took up weeks of time and effort just to find one right candidate – there had to be a better way – and we set about creating it.
When some of Australia's biggest brands saw what we had done, they wanted it too. They had the same problems, on a much bigger scale, and solving that for them had an enormous business impact. That's how it began and since then we've worked in tight partnerships with our customers to continuously tease out their workforce and talent management challenges, and put technology to work to create smart and effective solutions to them.
Whilst it started out being about automation and efficiency – it's so much more than that today. In the last decade, we've seen consumer technologies explode, largely through social platforms and mobile devices – all enabled by the cloud.
Almost overnight, this has elevated our expectations of not only what technology can do, but how we are experiencing it. Every time we turn to technology today, we expect it to be super-fast, super-easy and fun to boot! And over the space of just the last few years, we have seen this expectation of consumer technology migrate to our expectations of enterprise technology – we want the same great experience at work as we have in our personal lives.
Humble beginnings
We come from fairly humble beginnings – in 1997 we were a small team building a small business to solve some pretty big market challenges. What that's meant is that we've never forgotten what it means to be real – authentic, and focused on the customer, not on ourselves.
Our competitors were global giants, they still are. That's never worried us, just made us focus on being better, faster and much more agile. It's also meant we've never stopped for one minute or rested on our laurels – we're always pushing hard to continuously improve and evolve. Always challenging.
That's how we've grown from a start-up in Melbourne, to a global talent technology provider.
The golden triangle for global growth
We now have over 100,000 users in 190 countries, operating in the US, Asia, EMEA and Australia with almost half (43%) of our revenue sourced internationally. Our growth has reached an average rate of more than 20% year on year which is helped by a customer retention rate in excess of 95%. As an Australian-born company we're honoured to be servicing landmark customers such as Telstra, Myer, The Reserve Bank of Australia, Lindt and Transdev. Equally, internationally, we have a wide array of customers, spanning every industry and including public and private sector corporations, government, academic institutions and not-for- profit organizations.
But to be successful in business for 20 years in a global, intensely competitive and massively transformational landscape is not easy. I attribute our longevity to these three things:
our focus
our people and
our customers.
Humanising technology for the future
The next decade will bring potentially even greater challenges and opportunities for us and for our customers. Artificial intelligence will augment many workplace activities, and there are great opportunities to use these smart capabilities in talent management, such as putting:
recruiters on the front foot with dynamic talent pooling tools using social networks and quickly matching candidates to jobs;
easy and engaging performance and coaching tools on the mobile devices of every manager and employee;
much more interactive and fun learning activities, with curated content for each individual and augmented and virtual reality interfaces, and;
a powerful analytics engine behind the entire talent management platform to enable real time and continuous workforce planning for HR and business leaders.
The Internet of Things will see sensors and robotics technologies becoming a standard feature of the workplace, opening all sorts of new avenues, from chatbots helping us answer questions and solve problems, to devices tracking wellness goals and activities and helping to improve our workplace productivity.
We are very excited to be part of the journey, and in many instances, leading it. I think the future also takes us into a new phase of talent management, from a focus on automation and efficiency, to a focus on humanising technology.
By that I mean that there will be a rebalancing to ensure that we build technology that makes the human experience better all round, rather than technologies that just deliver cost savings and process improvement. The latter will be a 'given' – the former will transform the workplace.
It's a jungle out there – keep it real
The world is full of opportunities for young entrepreneurs who have the head (ideas), heart (passion) and stomach (commitment & resilience) to pursue them. That much I know from my own personal experience.
Today, when I think about setting up for success, I can offer this:
stay true to what you value – it becomes your guidepost
surround yourself with talented people, including mentors – they become your support network, and
embrace the changes that are coming – keep an open, inquisitive mind and let adrenalin focus you on thriving in this environment.
---
About The Author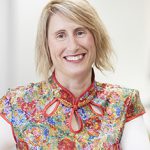 Karen Cariss
CEO and Co-Founder, PageUp

Karen Cariss is one of the founders of PageUp. Today, Karen is a key driving force behind the success of PageUp, setting the strategic direction of the company as well as overseeing internal activities to ensure synergy of all divisions. Karen's extreme passion for the company is evident in her work and attitude, which has been publicly acknowledged by being listed as 28th on BRW's Top 50 Female Entrepreneurs in June 2006 and winning the Ernst and Young 'Young Entrepreneur of the Year' for 2008 and the Victorian Telstra Womens Business Award in 2009.