By: Patrick Sharry, Director, People and Decisions
Posted on 31 Oct 2016
Patrick Sharry shares an engaging and insightful perspective on our transition to a digital workplace. He uses the shift from steam to electric trains to demonstrate how work practices often lag behind new technologies and predicts a decade of significant change.
How will digital communication and collaboration re-shape the workplace of the future? What are the implications for Human Resources (HR)?
---
About The Author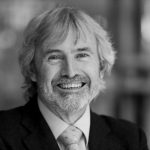 Patrick Sharry
Director, People and Decisions

Patrick has extensive experience working as a consultant in both the public and private sectors. His clients regard him as an expert facilitator and he is regularly called on to assist with complex problems and difficult situations that need an expert and reliable hand. He has taught at University level in Australia and the UK, and is currently on the adjunct faculty of the Australian Graduate School of Management. Patrick holds a Master of Science in Decision Sciences from the London School of Economics, Master of Education in Mathematics Education from QUT, a Graduate Diploma of Teaching and a Bachelor of Arts. Patrick is a Director of People and Decisions.