By: Vaughan Paul, Vice President, Human Resources, Optus
Posted on 03 Aug 2016
In a fast-paced and turbulent business environment like telecommunications, where entering new markets and acquiring new businesses are par for the course, it is essential for HR to understand the people implications of business decisions.
In the volatile and uncertain world of telecommunications, the people implications extend beyond connecting the HR functions of talent acquisition, performance, retention and other HR standbys. In the telco world, HR must also step in to integrate the organisational cultures and advise on areas outside the traditional realm of HR. It is exhausting and exhilarating all at once, according to Vaughan Paul, Vice President of Human Resources at Optus.
"In our space, we've moved into a whole range of new businesses and markets, and that means executives really rely on us. HR has to be prepared to understand the new businesses as well as build a mature HR function that has the right capabilities to spearhead the entry into a new market," says Vaughan.
Optus makes a clear case for how a business-savvy HR function can be embedded at the executive table and play a critical role in the success of an organisation. At Optus, the people agenda sits at the core of the business strategy and as such, HR contributes significantly to the performance of the organisation. As Vaughan shares, maintaining HR's strategic position requires more than just the tried-and-true HR approaches. The function must be prepared to reinvent itself and find areas for innovation.
"If you're innovative in what you're trying to do, provide new offerings to employees and find ways to stretch managers, then you've got relevance," Vaughan explains. "After all, HR and finance are really the only two functions that have overarching organisational reach. If you can use that influence to let people know what's going on in their businesses, especially where they might not have insight, then you're quite valuable. But if you're not striving to be an influencer, then you will take a back seat because you'll just be told what to do."
Vaughan finds himself in the enviable position of working with a CEO who wants his leaders to own specific business issues, rather than solely representing the agenda of their own functional areas. For Vaughan, this means that he collaborates with the CFO to lead innovation for Optus, finding new ways for the company to align its business processes with the future of the industry.
He shares a recent example of Optus's approach to achieving success by investing in emerging business areas. In response to the growing threat of cyber-attacks on organisations worldwide, the telco purchased the U.S.-based cyber security firm TrustWave in 2015. Recognising the dearth in experts with the right skills to identify and manage cyber-attacks, including the ones the company might want to hire for their own cyber security business, Optus chose to grow its own expertise. Optus has partnered with Macquarie University to launch a multi-disciplinary Cyber Security Hub that takes a holistic approach to cybercrime by offering degree programs, executive and business short courses, and upskilling Optus staff with the latest cyber security skills and expertise.
Rather than continuing to struggle to find people for Optus's new business venture, Vaughan and his colleagues sought to partner with an outside firm to develop an innovative solution to their skills shortage. Because in the end, "If you try to do it all yourself, you just won't get there," Vaughan shares. Now the company has positioned itself to not only be competitive within the industry but to actually define the future of cyber security.
The innovations don't stop there. Vaughan is also working to turn the concept of learning on its head among Optus employees. As he points out, when your business regularly enters into new areas that don't always match with the existing workforce's skillsets, it's critical that you find ways to align individuals' capabilities quickly with the needs of the new business. Vaughan believes that the key component of an organisation's learning capability comes down to one attribute: inquisitiveness
"People are learning more every day in 20 or 30 second grabs because they will go and find the answer to their questions on the Internet," says Vaughan. "The challenge for the learning team now is getting people curious about learning. How do you get people to want to find out how to do something differently? How do you create that desire to experiment and learn in the company?"
Optus is testing one approach that the company calls its annual Learning Fiesta. The idea is to get people excited about learning by running Skype sessions on any topic they choose. And once they're excited about learning – even if it's not a topic that is directly applicable to the business, such as how to make the perfect latte – it sparks curiosity and causes employees to pursue their own learning. So that when it comes time to put new things into practice within their own business areas, employees are more likely to experiment and try new approaches to solving business problems.
At least, that's the theory. Vaughan admits that his next challenge is to embed this scientific method mentality into practice within the business teams. In the meantime, he points to the high attendance at the Learning Fiestas – last year, 8,000 Optus employees took part – as well as positive engagement levels as barometers for the company's success in creating a curiosity-driven culture.
It's clear from his passionate explanation of the company's learning program that Vaughan takes a hands-on approach to HR's numerous touchpoints within the organisation, and it all comes down to his overarching leadership philosophy: "If you're an executive of a company, act like one. Worry about what the training numbers are. Worry about what's going on in IT. Worry collectively about all the numbers and all the parts of the business. Then, you can have your say about the areas that you actually represent. But you've got to earn the right to have that say."
---
About The Author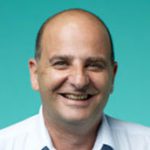 Vaughan Paul
Vice President, Human Resources, Optus