By: Paul Birch, ​Director, People & Culture, Transdev
Posted on 28 Jul 2016
The Cleveland Cavaliers. The Portugal National Football Team. The New Zealand All Blacks.
These teams have one thing in common – they've all hoisted a championship trophy over their heads. Their journeys to the final game might have taken different paths, but you can bet that the first step was to set a very clear goal to become the best. Then, they followed through with a system that was relentlessly focused on hiring the greatest athletes, integrating them into the team's culture, developing their skills, providing necessary supports like strengths coaches and dieticians, honing the athletes' talents and ultimately rewarding their performance.
Sound familiar? The similarities between sports teams and business become glaringly obvious when you think about the need to recruit the right people onto the team, manage their performance, develop and retain them and ultimately reward them appropriately. In this analogy, HR could be considered an invaluable assistant coach, providing insight into hot prospects in the development league, conducting scouting missions of the competition, recognising areas in need of improvement and providing data on comparable compensation practices across the industry.
The challenge is, despite admiring the single-minded determination necessary to achieve champion status, most organisations don't make the connection to applying a similar amount of persistence and dedication to their own workforce management practices.
I think business is far more tolerant of lower performance.
"As sporting fans, we expect our teams to do all of these things well, and we get very passionate about the outcomes. In a sporting environment, it's fairly cutthroat. If you don't perform, it's an intolerant place to be," says Paul Birch, Director of People and Culture at leading public transport company, Transdev. "In business, there's just not the same level of focus, energy or passion. I think business is far more tolerant of lower performance."
And yet – what new levels of success could be achieved if companies applied the same rigor to their workforce planning as the New Zealand rugby team uses in their scouting reports, for instance?
If businesses followed the same game plan as a World Series-winning team, then HR's strategic role would be abundantly clear – ensuring the right talent is in place can mean the difference between a championship title and ending up with a wooden spoon. As Paul shares, it's critical for HR to stay ahead of the game in order to move the needle on organisational performance. The world of business is turbulent, dynamic, unpredictable and disruptive, and organisational response and business strategy aren't always able to keep up, leaving companies in a reactive mode.
The purpose of HR is to think about the environmental turbulence and the company's strategy and outline the implications and the gaps for business leaders.
"The key is how responsive an organisation is and how quickly it can implement the strategies that are needed to compete. The purpose of HR is to think about the environmental turbulence and the company's strategy and outline the implications and the gaps for business leaders. If you're going to add value and have a seat at the table, you have to be able to have this kind of discussion," Paul says.
As Paul notes, the sweet spot for organisations is when HR is able to look beyond the day-to-day administrative tasks and not only recognise and respond to the turbulence within their own industry but actually help their organisation create that turbulence. He points to Apple, Uber and Airbnb as companies that had the right coach at the helm and the right players on the team to disrupt traditional industries, causing their competitors to scramble in response. When HR is working from the same playbook as the business and aligning its practices with the business strategy, then the organisation can more effectively respond to market disruptions and successfully execute on its strategy.
It's a basic human need to want constructive feedback.
To draw one last sports analogy, Paul references the traditional approach to performance management, explaining that again, sports teams have the right idea. Rather than waiting for the end of the season to review the tape and align performance with the goals of the team, coaches provide immediate feedback on a regular basis – both in practice and continuously from the sidelines during a game.
"Everyone, no matter what level, wants to know what is expected of them. They want to know the purpose of their job and where it fits into the strategy and goals of the company. It's a basic human need to want constructive feedback," says Paul.
And, coaches don't take a laissez-faire, unstructured approach to providing that feedback. Paul notes, "It's not something that happens by chance. Coaches don't just talk to the pitcher on a Saturday and magic happens. They practice, practice, practice and provide individual feedback every day, using clipboards to note every move a player makes. There's a deliberate focus on the individual and on the team performance."
In Paul's view, the performance process is often where organisations drop the ball, purporting to provide regular feedback but typically falling back into an annual touchpoint that is in fact out of touch with the current realities of the business. With industries changing so quickly, it is critical to keep employees up to date on what is expected of them. Setting rigid annual employee goals, Paul says, is as fruitless as setting a five-year strategy for a company – there's just too much volatility in the business world for annual goals to allow for the requisite flexibility.
As for HR, the function can avoid being relegated to a walk-over role by maintaining a relentless focus on positioning the organisation for adaptability, response and execution, says Paul.
"Everyone needs to stop being so careful and work to get us caught up," he says. "We can't just amble along. HR's got to be a lot quicker in terms of responsiveness and delivery because business is moving along at warp speed."
---
About The Author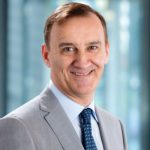 Paul Birch
​Director, People & Culture, Transdev

Prior to joining Transdev as Director People & Culture in 2013, Paul held numerous senior and executive roles in Australia, UK, India and Middle East. Paul has over 28 years of human resource experience working in international organisations, including Etihad Airways, Punj Lloyd Limited, Siemens Ltd Australia & NZ, Ansett Australia Airlines, Elders Agribusiness Group and Forward Trust Group.