By: Sylvia Vorhauser-Smith, SVP, Global Research, PageUp
Posted on 23 Jun 2016
You had to be there! The Talent Lab Forum, held at Melbourne's RACV City Club last week, saw Lab contributors and thought leaders come together over lunch to debate three current hot topics in business and HR.
I'll summarise the for and against arguments that were pitched. What are your thoughts?
Topic 1: Whatever the HR question, the answer is 'analytics'.
No surprises that HR remains under attack for its limited and tactical use of data analytics. The Conference Board's Nick Sutcliffe recently shared his views that workforce analytics is not rocket science and HR should approach it pragmatically. Failing to do so only increases the intensity of the spotlight on this issue, hence the challenge that applying analytics to every HR question is the answer.
The case FOR
Business decision-making starts and ends with the numbers. Qualitative considerations are valid, add context and insight, and are factored into business decisions, however to ignore the metrics is to ignore the commercial stakes.
Whether it's applied to recruitment, performance or succession, analytics remove or at least substantially reduce biases (conscious or unconscious) and level the playing field.
Take the movie Moneyball (in which data-driven player selection decisions yielded the best performance results in the history of the Oakland A's baseball team) as an example of the positive performance impact of augmenting qualitative insights with quantitative facts.
The case AGAINST
Data quality and integrity: analysing inaccurate, out-dated, incomplete data won't stop you producing impressive dashboards and evidence of activity, but you would want to be very careful about what predictive leaps you made using that information. At the heart of the problem is 'garbage in, garbage out'.
More data, rich data, big data has only served to add layers of complexity and hours of effort, the results of which only yield exclamations of "so what?" Too much data, not enough information. HR needs more simplicity, not more complexity.
Above all, is the 'HR question' even the right question? HR should be providing business insights, which require, fundamentally, that the question to be answered is in fact a business question, not a HR question.
Topic 2: Technology and science are de-humanising HR.
Here, the debaters tackled the looming realities of the future of work. Would your best friend at work soon be powered by lithium batteries? Would your performance be managed by artificial intelligence?
The case FOR
Yes, technology and science are fundamentally transforming our experience of work, but is that a bad thing? Isn't it possible that the workplace will become more engaging when all the dull activities that lend themselves to automation are indeed tackled by machines?
And even if the HR function is de-humanised by mechanisation and self-service, that only elevates the importance of the role for line managers and team leaders to play in humanising the workplace, right?
The case AGAINST
Have you ever done your banking online? Ever shopped online? Ever ordered a meal, flight or hotel room online? Did it de-humanise you??
No, technology and science don't de-humanise us, they set us free. Thanks to these advances, we can work anywhere, anytime and collaborate with anyone.
In fact, science is even changing what we know about employee behaviour and performance, thereby actually making us more human.
Topic 3: The best successor for the CEO is the CHRO.
Well this put a cat amongst the pigeons. CFOs, CIOs, COOs – please stand aside. It is the CHRO who has the background best suited to take charge of your organisation and spearhead its success.
The case FOR
Began emphatically with "why the hell not?" After all, is it not the role of the CEO to engage and inspire? – and that's a core strength of HR.
The CHRO knows the entire business and talent in it, with visibility across all departments that few other functions can lay claim to.
HR has access to all workforce and business data and understands how roles and functions contribute to the business.
And with its industrial relations and compliance expertise, any Board would be comforted by the proficiency a CHRO would bring to the top job.
The case AGAINST
One word: credibility. Two words: business acumen.
And how about this: the best successor to the CEO is the best person for the job!
Research statistics pretty clearly challenge the perception and contribution of HR to business (download the Talent Lab 3 White Paper to see).
And the majority of CHROs come from HR backgrounds – there are very few that have made it to CEO roles.
There ended the debates. OK, so some of the arguments were a bit tongue-in-cheek, but a healthy, robust and often fun discussion fuelled these debates. Thank you to all the Talent Lab contributors that participated.
What's your opinion on these topics?
---
About The Author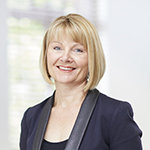 Sylvia Vorhauser-Smith
SVP, Global Research, PageUp

Sylvia is a regular speaker in the field of human capital management and neuroscience and drives research and thought-leadership at PageUp. She has more than 25 years of experience in corporate and entrepreneurial business environments, including positions as Head of Selection and Development at Westpac Banking Corporation and Human Resources Manager for Citibank Limited.