By: Ashleigh Loughnan, Executive General Manager - People, Property & Procurement , Tatts Group
Posted on 17 May 2016
When you're in charge of the people, property and procurement functions within an established 134-year-old company, ensuring that the Human Resources function is capable of adapting to changing economic realities is of particular importance. Ashleigh Loughnan shares the role that HR plays within the Tatts Group, a leader in the wagering, lotteries and gaming industries in Australia, New Zealand and the United Kingdom.
Ashleigh, what do you think HR's contribution to the business strategy should be?
HR needs to be there when the business strategy is written. It's not okay to put together a business strategy and then refer to HR later when you ask them to roll it out. Having feedback on the fly is much more valuable than retrospectively saying that it doesn't work or that support needs to be ramped up. HR needs to be there at all points as a sense check and to weigh in on what is being written and how realistic it is from a people perspective.
At Tatts, we have an annual playbook that lists our strategic goals for the group. I participate in the development of that playbook as does every other team captain in the business. We have a say on things that impact us – determining whether they are doable or not – and we are involved the whole way through.
Is HR's influence strong enough to achieve true alignment between HR and business strategies?
I think it depends on the person sitting in the seat and whether they have the level of influence necessary to get that alignment. As a people team, we can't just say, "HR is valuable and you should use us." It comes down to that person, their relationship with the business and their ability to prove their value. It also can depend on the other side of the business too – if the business unit is more open to HR being a part of the business instead of a standalone service unit, you can get greater outcomes as well.
In terms of measuring outcomes, what HR metrics do you think have the biggest business impact?
Turnover makes quite a loud statement about the vibe within a unit and what's going on there. If an area has a lot of turnover, we know something's going on. But, we don't rely heavily on HR metrics – I think that tendency is trying to put a science behind a discipline that doesn't necessarily need it. There are other things that we can be doing with our time instead.
HR has more of a role to play than just measuring organisational performance. Performance has to be owned by the managers and team leaders that are driving that increased performance, but they need to be open to the support they get from HR and other functions. Business needs to own their strategy and recognise that they will achieve it with support. HR is one way to support that business strategy, just as finance and technology are.
How do you see individuals and organisations keeping up with the fast pace of continual learning that is necessary in today's business environment?
I don't think it's entirely the organisation's responsibility to respond to this trend. If you have a highly-engaged, highly-motivated workforce, they will be self-learners who are thirsty for more information. Organisations can direct and support employee learning, but it's important to see initiative from employees. There are still a lot of employees who have the expectation of "you employ me, so you keep my skills up to date" and I think that's quite antequated. That self-learning motivation is very telling of the type of person and employee you are.
Speaking of learning, what do you think HR can learn from other business functions?
I think marketing is a good example. There is more and more crossover between HR and marketing than ever before, especially focusing on a company's external perception as it relates to employer brand. We can gain so much from marketing's input.
If there were a technologist on an HR team, it would bring a very disciplined project management aspect to the function and would provide a different perspective on the way HR delivers projects and looks at day-to-day activities.
From the finance function, it would be helpful to have a better perspective on what the really complex numbers actually mean. While we all talk about financial results, having an understanding of what they actually mean would be very helpful to help people better understand the decisions we make and the potential impact they have on the business impact.
---
About The Author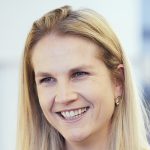 Ashleigh Loughnan
Executive General Manager - People, Property & Procurement , Tatts Group

Ashleigh has over 12 years in human resources. Prior to joining the Tatts Group in 2013, Ashleigh was Executive General Manager Human Resources for the Wotif Group.