Posted on 10 May 2016
A lot has happened since we shared our last career journey blogs from team members who relocated from our Australian office to help set up PageUp in Asia. We now have a significant sized team doing some incredible work. So by way of update, one of our team members offered to share some insights into life at PageUp Team Asia
How did you come to join PageUp?
I remember Sheryl Sandberg (of Facebook fame) say that someone once told her, "If you're offered a seat on a rocket ship, you don't ask what seat. You just get on."
I wasn't looking for a job when the recruiter from PageUp reached out to me through LinkedIn. After some research, I realised that PageUp had enormous potential. As a company, it was showing consistent growth, and it had received an injection of growth capital to fund further expansion in Asia. Having a prestigious third party, Accel-KKR, endorse the growth potential of the organisation was what really sold me. I had to get on board!
What's the most unexpected thing about working here?
The flexibility that the company affords to its employees. We have the option of working from home, and some of my colleagues sometimes bring their children to the office. Also, we are measured based on our output, which is quite progressive in the Asian environment, instead of the amount of hours that we were in the office.
Describe the working style. How do you stay agile and productive in your role?
Everyone gets their hands dirty in this office. From contributing to company strategy, to even writing a blog post like this one.  Everyone is expected to contribute their best in all the initiatives that they are engaged in, and  this is ideal for someone like me who needs a variety of tasks to stay engaged.
What is your relationship with your manager like?
It is really good! Given the work we do across the region, it can be a real roller coaster ride – he'll be on a plane back to Singapore as I'm flying out to another country! In spite of that, we do our best to meet 1-on-1 where we sit down and look retrospectively at what has happened and plan for the upcoming weeks. He checks in to see how I'm doing and always gives me the opportunity to contribute to areas outside of my job responsibility. The best part about our relationship is that I feel he genuinely cares about my development.
Who has made the most impact on you during your career?
My former manager back in Malaysia inspired me to make the move from a more engineering focused career into a more commercial one. He's definitely one to thank for providing the motivation to move to Singapore where I worked for a startup, before moving on to PageUp to continue this career trajectory.
What advice would you give for anyone looking to join PageUp?
If you're looking for a place that will value your contributions and allow you to try different things outside your regular work responsibilities, this is the place to be. There are many examples of people moving between departments, or even countries, because it was part of their career aspirations!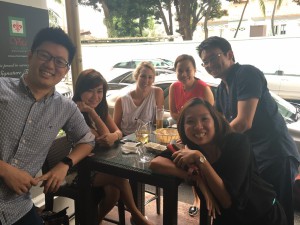 Interested in joining the PageUp team? Check out our careers site or head over to our blog to read more career journey posts like this one.