By: Paul Birch, ​Director, People & Culture, Transdev
Posted on 01 Mar 2016
Who is responsible for getting a message across – the sender or the receiver?
Transdev HRD Paul Birch takes away any confusion about how to get a message to stick. Perseverance and repetition. And one more thing.
In this short video, Paul shares his experiences of engaging the workforce during periods of significant change. Having overseen numerous company mergers and acquisitions, Paul has learnt a thing or two about what works, what you only think works, and what employees are really looking for in times of uncertainty and change.
---
About The Author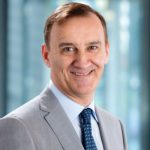 Paul Birch
​Director, People & Culture, Transdev

Prior to joining Transdev as Director People & Culture in 2013, Paul held numerous senior and executive roles in Australia, UK, India and Middle East. Paul has over 28 years of human resource experience working in international organisations, including Etihad Airways, Punj Lloyd Limited, Siemens Ltd Australia & NZ, Ansett Australia Airlines, Elders Agribusiness Group and Forward Trust Group.