By: Chris Steinfort, HR and Organisational Change Executive
Posted on 15 Jan 2016
Chris Steinfort is the Director of Human Resources at the Australian Red Cross, an organisation that knows a thing or two about engagement. Making sustainable connections is vital to the Australian Red Cross and Chris' goal is to ensure employee engagement aligns with that mission.
Chris, as an HRD, what engages you?
I enjoy a good challenge, Sylvia. Making progress toward our goals and implementing changes where necessary inspires me – that momentum created by continual improvement. Part of it stems from a sense of achievement but it's also related to providing service and making a difference.
Traditional predictors of engagement include the Gallup Survey that asks about whether or not you have a best friend at work. Do you relate to that?
Not directly, but I do think we all thrive from a sense of connection. There are the key relationships we have within the organisation, as well as those externally, both our professional and personal networks. Making sure employees feel connected has a direct impact on engagement and retention; for example, at a former employer, as part of an engagement survey, we asked employees if they received copies of the CEO's newsletter. Those who did were more engaged – not necessarily because they had news that others did not – but because they felt connected to the vision.
Research indicates that higher levels of employee engagement are correlated to organisational performance. Is that your experience?
Australian Red Cross is unique as an employer; and not for profit performance goals don't simply mirror those of a for-profit business. Having a strong vision of what it means to serve and what we want to achieve for humanity are important motivators for our employees. From HR's perspective, we're looking to attract and retain talent to our organisation. How do we engage people from the start and ensure their productivity quickly? These are logical progressions that, if done correctly, enable us to build a cohesive organisation achieving our strategic goals.
In our case, many employees join because of what we stand for, but they only stay if we help them utilise and develop their skills. If their skills are stagnating or unused, they leave. But even if they leave, our employees are apt to remain connected to the causes of the Red Cross, creating brand ambassadors for life. Few for-profits can boast that outcome.
What's your approach to measuring engagement?
We use surveys that consist of 100 questions in 20 categories using a 5-point scale. We've been doing it since 2009, so at this point, can track trends in each category. When we started six years ago, there was skepticism about whether we would actually do something with the results. After all, unless you take noticeable actions, employees won't see surveys as worth completing. At Australian Red Cross, our leadership team takes the survey results very seriously and has made changes directly in response to the survey feedback.
This year, we also conducted a volunteer engagement survey for the first time. Almost 6,000 volunteers shared insights into their experiences. It's part of our commitment to connectedness – our volunteers play a vital role in our organisation's success.
Do you think employee expectations around engagement have changed?
Yes, and it's not specific to engagement. The world is changing and we need to change with it. For example, if you take traditional recruitment processes, the power was with the employer. Employers advertise, interview, shortlist and hire. With the demographics of the workforce rapidly evolving, candidates expect recruiting to be a 2-way process with informed decision-making from both sides. It's similar with performance management and career development: employees want to look forward at what skills they should be developing to reach their performance potential, not just look back what they did or didn't achieve in the last year.
Chris, does HR have an influence on engagement?
Absolutely. HR is no longer bogged down in process – especially thanks to the use of technology – we can advance conversations to explore alignment between what individuals and the Red Cross want – instead of policing procedures, forms and signatures.
How does all of this impact engagement?
Engaged employees have power. They have more confidence about where they use their time, energy and resources. If they have power over their careers, they have a sense of independence and choice. When we've done our job, they chose Australian Red Cross. Survey results, better performance management practices and better linkage between development, career opportunities and teamwork turns into longer-lasting connections. It's not about ticking boxes. It's about giving people the platform to do their best work.
---
About The Author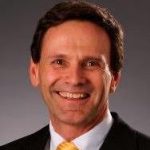 Chris Steinfort
HR and Organisational Change Executive

Chris is an experienced organisational change and HR executive. As Human Resources Director for Australian Red Cross from 2008 to 2016, he was responsible for the frameworks, systems, tools, policies and reporting for a workforce of 2,500 staff and 22,000 volunteers. Prior to joining Australian Red Cross, Chris was Executive Director Human Resources with Alfred Health and he has held multiple HR roles in organisations such as Affinity Health, Mayne, Kraft Foods and Bonlac Foods.