By: Patrick Sharry, Director, People and Decisions
Posted on 27 Nov 2015
Patrick Sharry is a director at People and Decisions, and also an Adjunct Associate Professor at the University of New South Wales and Fellow at the Australian Graduate School of Management.  He has taught at University level in Australia and the UK, and currently teaches Strategy and Managerial Decision Making on the MBA programs at the AGSM. He also designs and manages Executive Education programs for the AGSM in his capacity as Program Director.  A graduate of the London School of Economics with a degree in Decision Science, Patrick thinks most businesses (and HR departments) spend too much of their time on the simple side of complexity. And he thinks it's time to get uncomfortable.
Progress is going to leave behind some people, perhaps even a lot of people. – Brynjolfsson & McAfee, Authors of The Second Machine Age
"We will need different people," says Patrick. Business is moving faster than ever before and HR is not seen as a place where value is created. Compounding this issue is the fact that role models for great HR rarely exist. "Very few people have seen HR done well. They don't know what they're not getting." The rhetoric in business about HR sounds goods, yet the practice of HR is not.
Why?
First, there's lots of discussion about "people stuff." Everyone agrees that people are important, but there are more pressing business issues that take centre-stage. Some management still holds a belief that if we just pay people enough, they'll do what we say. This approach rarely works: it creates flight risks, especially among Millennial workers who aren't interested in being just a cog in the wheel. Outcome-based HR is the next wave of the future, which means HR needs to be thinking ahead about technology, workforce demographics, data and learning. Their own learning.
Experimenters. That's what Patrick wants HR professionals to become; hypothesis-driven, perpetual students and fearless alchemists.
Why?
Patrick says that Moore's Law – whereby computing capacity doubles every 18 months – means machines will rapidly surpass the comprehension of the human. Too few companies are thinking about how this will impact business; they're stuck in the loop of this month's sales targets, next month's customer satisfaction survey and next year's budgets. Research forecasts speculate that 47% of American and 40% of Australian jobs will disappear. As the world seeks to strike a balance between man and machine, we need to be thinking about a workforce in which machines will be doing certain work.
Judge a man by his questions rather than his answers. -Voltaire
He urges HR to review the Cynefin framework, which helps leaders make appropriate choices.
SIMPLE: Many HR deliverables are just that: simple. The link between cause and effect is clear and you don't necessarily need to be trained to achieve the outcomes. An employee adds a dependent, changes a deduction, moves to a new jurisdiction. Time consuming, transactional and box-ticking.
COMPLICATED: Servicing an A380 aircraft isn't simple, but if you have the manual, the training and the resources, you can do it. It's within the realm of experts and the link between cause and effect is discoverable. Over time, different ways of getting to the desired result are possible and the complicated can be simplified through the documentation of good practices.
COMPLEX: To thrive here, you need a mindset of experimentation. For example, if your challenge is to improve the health outcomes of the indigenous people in Wilcannia, there's no manual for that – you'll need multiple stakeholders, skills, mindsets and beliefs. In some cases, emergent practice and repetitive experimentation make the complex complicated. Weather forecasting was complex and has now moved to complicated; through technology, more data is being tracked from more sources on different time schedules. Complex can be uncomfortable and requires dynamic adjustment to steer through challenges.
CHAOTIC: Chaos forces action. The luxury of analysis falls by the wayside and is replaced by quick decisions that aren't always correct. From HR's perspective, a likely scenario might be when budgets are chopped in half: work goes on but the disorder that ensues can take an extraordinary toll.
Why should HR embrace this model?
Cognitive load is an issue. Forcing every employee to deal with complexity is mentally taxing and counterproductive. Yet, there's a degree of complacency in being simple and risk involved in creating chaos. Patrick recommends leveraging the system and framework of requisite organisation, developed by Elliot Jaques. Requisite organisation sees dysfunction as the outcome of poor structure and systems, not deficient employees. Following the model can provide context for the workforce, matching employee capability to job complexity, explicitly defining managerial authority and accountability, explicitly defining managerial leadership processes, explicitly defining cross functional working relationships.
But it's not enough.
There will be an increasing amount of data about people, says Patrick. It will enable a much more data-driven view of the workforce and HR will need to become numbers-driven. The mindset of experimentation from the Cynefin framework combined with big data means HR gains new insights into the power of incentives and the behaviours they drive, which supports sustainable productivity. We can't hold these tides back, says Patrick.
Are you ready?
---
About The Author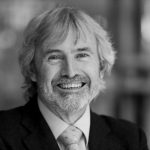 Patrick Sharry
Director, People and Decisions

Patrick has extensive experience working as a consultant in both the public and private sectors. His clients regard him as an expert facilitator and he is regularly called on to assist with complex problems and difficult situations that need an expert and reliable hand. He has taught at University level in Australia and the UK, and is currently on the adjunct faculty of the Australian Graduate School of Management. Patrick holds a Master of Science in Decision Sciences from the London School of Economics, Master of Education in Mathematics Education from QUT, a Graduate Diploma of Teaching and a Bachelor of Arts. Patrick is a Director of People and Decisions.