By: Paul Birch, ​Director, People & Culture, Transdev
Posted on 17 Nov 2015
Did you know that 2015 was the year to which the DeLorean time machine in the popular movie "Back to the Future" traveled? That movie was released in 1985 and back then, 2015 sounded so futuristic – yet here we are. HRD Paul Birch of Transdev sees a radically altered transport industry in the future and talks about what HR needs to do to prepare for the ride ahead.
Paul, what's on the horizon for the transport industry?
Sylvia, the transport industry is growing at 10% per annum globally. Governments are outsourcing their public transportation requirements to firms such as Transdev to ensure they can address two of the most pressing issues of our time: massive population growth and urbanisation. Take Australia as an example: the population is expected to reach 45 million in 2050; in Melbourne & Sydney alone, forecasters say we'll have over 2 million more residents than we do today. That's a 30% increase. Transporting this many people around puts the system under significant and unprecedented pressure.
Add to this the competition for qualified talent in the industry. A large percentage of our workforce is made up of men who could be retiring en masse within the next 10 years. We're not unique and many organisations are grappling with ageing workforces and the need to attract younger workers.
Talk of driverless cars, trains and buses is also gaining momentum. How will that impact your quest for talent?
Well, the technology onboard current modes of transportation has already changed dramatically. Once, our employees were accustomed to grappling with large steering wheels and ringing bells – now they find themselves in the cockpits of trains and buses that will increasingly look like a Boeing Dreamliner.
The acceleration of hi-tech systems in public transport is actually good for Transdev – it makes us more attractive to younger workers who are excited about this rate of change. Marketing our employer brand to these talent pools has become a concerted effort though; transport is not typically known as a hot industry. Currently only 11% of our workforce is under 30 and, in terms of diversity, only 17% of the Transdev workforce is women. We're continually rethinking how we market to Millennial candidates.
You've mentioned marketing several times. Does HR have that expertise?
Not enough yet; however, it's a skill I believe every HR person needs to develop to support the attraction of new talent. This includes becoming social media savvy – which enables us to transform perceptions, promote our brand and employee value proposition, and source the right talent quickly.
Overall, I think there are big changes on the horizon for HR professionals. We need to adapt very quickly to the digital age and the threat of new disruptive technologies and competitors. The concept of long term planning and response is a thing of the past. Innovation, agility, collaboration and adaptability are the attributes and culture that HR needs to foster. You cannot cultivate an agile workforce if HR isn't tech-savvy and Millennial-friendly.
How has leadership responded to these workforce changes, especially given the proliferation of new technologies?
Boomers need to harness their inner child and become curious and inquisitive instead of resisting change. Trust the Millennials more; after all, it's the boomers who raised them! Needing to have experience should not be the reflex response any more. The majority of us have never experienced these changes before and our past will not give us the answers. For example disruptive technologies such as Uber have come from nowhere and are threatening the status quo of the taxi industry – are Uber buses next?
Is technology changing HR as well Paul?
Indeed it is. Of course, in terms of the candidate experience, we're using mobile for recruitment as well as social media. The employee experience includes apps for payroll that enable direct access for employees. Since Millennials expect to stay connected all the time – at home, at work, on trains or on leave – we're placing more emphasis on the talent management applications that will give them what they need, when they need it. The rate of technology change is outstripping the rate of industry change – it's hard to keep up, but HR needs to lead the charge to ensure workforce engagement.
—
Transdev is a leading public transport company with over 5,300 employees working on train, bus, ferry and light rail services across Australian and New Zealand. Globally, the company pioneers passenger transport services with 86,000 employees and 41,000 vehicles.
---
About The Author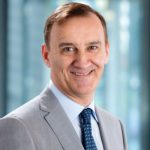 Paul Birch
​Director, People & Culture, Transdev

Prior to joining Transdev as Director People & Culture in 2013, Paul held numerous senior and executive roles in Australia, UK, India and Middle East. Paul has over 28 years of human resource experience working in international organisations, including Etihad Airways, Punj Lloyd Limited, Siemens Ltd Australia & NZ, Ansett Australia Airlines, Elders Agribusiness Group and Forward Trust Group.