By: Marc Effron, CEO​, The Talent Strategy Group
Posted on 06 Nov 2015
Wanting to help people is an honourable yet insufficient reason for being in HR. "Until we have HR teams staffed with people who come to work each morning saying, I cannot wait to see the data out of the system today in order to see what cool stuff I can do with it," HR will not be viewed as an evidence-based function.
When we recently met up with Marc Effron and asked him if HR was disconnected, he went right to the D-word. Data.
"I remember when you used to join HR because you saw yourself as a 'people person'," commented Marc, "but if you really want to help people, it's time to get into predictive analytics – HR professionals need to love and demand the data that will help their organisations thrive."
"HR people should learn and love business – be trained to understand it and engaged every day to think about how they can be solving business problems. And we need to be developing the HR leaders of tomorrow now by ensuring they know how to ask the right business questions and leverage data for answers."
This gap isn't exclusively HR's fault, Marc acknowledges. They've long clamored for attention but received limited budget, were cast aside when bigger transformative initiatives took center stage and hugged the transactional tree during a time when nimble strategists were needed.
HR needs to know how to ask the right business questions and leverage data for answers.
Marc also thinks it is shameful and downright strange that vendors purporting to serve the needs of HR release software solutions featuring interfaces that are so far behind what's available in consumer technologies. Old-school interfaces frustrate users and only serve to harm HR's reputation within the organisation. After all, when your usual daily routine involves apps such as Facebook and Twitter, why would you get excited about your work application being one step beyond Windows 95?
Sadly, the blowback of these unhappy employees is on HR for having selected applications that might be highly functional for HR yet highly dismal experiences for their workforces.
We asked Marc for his predictions for HR. Three key areas emerged:
Free Agents: The Contingent Worker

– A research study conducted by the Freelancers Union in the U.S. found that 34% of the workforce – 53 million people – did freelance work in 2014.

Ardent Partners

say that by 2017, contingent workers, including independent contractors, statement-of-work-based labour and freelancers, will account for nearly 45 percent of the world's total workforce. Marc has also witnessed the proliferation of the contingent worker and believes their importance in the talent ecosystem will continue to grow.
Further, millennials are seeking to have flexible "gigs." Boomers don't want to unplug outright so transitioning from full-time to contingent makes perfect sense. Marc says this emerging category is forcing HR to redefine the work relationship: "When a greater part of the workforce is contingent, how can we manage and measure the talent pool?" He predicts that organisations will struggle with this growing trend, especially since the contingent workers tend to have entrepreneurial qualities and highly sought after skills.
Science & Performance –

Applying the core and behavioural sciences that have been taught and valued in our educational systems in the recent decades will give HR new ways of tackling the multi-faceted challenges facing them. Much of the world's workforce has evolved from manufacturing assets to knowledge workers. Added to this complexity are the numerous ways in which an employer can engage a worker. Marc believes that regardless of worker type, location or leadership style, people need goals and feedback. There is a growing list of technologies available to support this requirement.

After the Offer: Engagement & Culture –

When it comes to an emphasis on corporate culture, Marc sees an increasingly inherent homogenisation of culture around the world. Yet, he says that regardless of this growing trend on a global level, understanding and respecting the nuances of local work trends is a necessity. Forcing a "one size fits all" practice in today's rapidly evolving global economy is far less than ideal. Driving workforce diversity can lead to a workplace culture that is better aligned to address the unique requirements of a diverse customer population. In other words, just because a company's headquartered in one country, doesn't mean its corporate culture should only embrace that country's values and traditions. Vive la différence!
There's another requirement: employee engagement. Engaging workers after the honeymoon period of sourcing, recruiting and onboarding means creating compelling assignments (such as for contingent workers) and compelling careers (for traditional employees). Marc sees personalised applications – perhaps using gamification – as being agents of change in terms of how workers are engaged and corporate cultures are reinforced, making work less boring while supporting key business functions such as succession planning and talent mobility.
The future of work has never been brighter, thinks Marc. HR needs to walk into the light, making sure it supports its journey with data, technology and knowledge.
—
Marc leads The Talent Strategy Group, consulting globally to the world's largest and most successful corporations. He co-founded the Talent Management Institute and created and publishes Talent Quarterly magazine. He authored, with Miriam Ort, the Harvard Business Review Publishing best-seller One Page Talent Management. His prior corporate experience includes senior talent management roles at Bank of America and Avon Products. Plus he has a MBA from the Yale School of Management. A recognised and respected thought leader in the talent management arena.
---
About The Author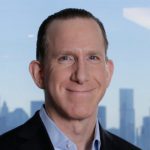 Marc Effron
CEO​, The Talent Strategy Group

Marc Effron helps the world's largest and most successful companies to simplify their talent management practices, and source and build great HR leaders. His prior corporate experience includes senior talent management roles at Bank of America and Avon Products. His prior consulting experience includes starting and leading the Global Leadership Consulting practice at Hewitt Associates.