By: Nicholle Duce, Human Resources Executive
Posted on 30 Oct 2015
You might think that a company founded in 1865 wouldn't be progressive. In the case of Queensland Rail (QR), nothing could be further from the truth. Committed to the highest levels of peak performance as well as community safety, QR's pledge to diversity is proven in its choice of CEO: a woman in a traditionally male-dominated industry. Celebrating 150 years of rail in Queensland, the organisation employs over 5,000 full time-equivalents (20.2% are women) with an average length of service of 15.1 years.
But it's not just the company's commitment to diversity that makes it progressive; Queensland Rail blends contemporary-and-innovative with tried-and-true transportation modes that are centuries old. Like automated announcements, social media updates and even a plan to encourage the open sourcing of its data to enable developers to build apps that will benefit travellers. QR has even created and deployed a robotic machine with cameras that surveys remote track lines each day to ensure safe conditions for its staff as well as passengers.
Keeping workers engaged while balancing Millennial new hires is a high wire act.
QR's workforce is becoming older with the average age now 44.8 versus 42.7 five years ago, and a transition to retirement program is being introduced. Keeping workers engaged while balancing Millennial new hires is a high wire act.
Nicholle Duce oversees the HR function for Queensland Rail. Her days are filled with challenges: how do we maintain a dialogue with employees out on the tracks? How do we solve business problems? How do we demonstrate the relationship between talent reviews and performance development?
Nicholle's team partnered with PageUp as her firm's first foray into HR technology. Queensland Rail had hundreds of thousands of skills and qualifications to map – all spreadsheet-based – and managing this morass of information was overwhelming. With IT's understanding of HR's vision, Nicholle is fast-tracking mobile device support for employees and managers who need real-time info.
Nicholle also inherited a team of deep HR specialists with limited functional crossover, and each business unit had its own HR team. Issues of consistency and transparency abounded, so an HR service centre, HR Central was created. HR Central has rapidly evolved to be a source of pride for the HR team. Previously, there was no means of capturing and documenting HR activities, and uniform application of policies and access was non-existent. Moving from a specialist model to generalists has enabled Queensland Rail to build business skills and foster a collaborative team within HR.
Disconnections within a railway simply aren't possible.
Innovation is driving the need for change, observes Nicholle. And that innovation isn't just on the rails; it needs to be within HR if we are to thrive as an organisation. Is HR disconnected from the business at Queensland Rail? Perish the thought. Disconnections within a railway simply aren't possible.
---
About The Author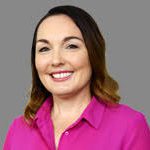 Nicholle Duce
Human Resources Executive

Nicholle is an experienced human resources executive with over 15 years' experience in major organisations such as Suncorp and Rio Tinto. As Executive General Manager HR with Queensland Rail, she was responsible for establishing the vision for human resources management, developing a strategic framework, supporting governance and programs to facilitate cultural change and foster a high performing culture.