By: Alison Brady, Head of PageUp Talent Lab, PageUp
Posted on 23 Oct 2015
In the changing world of work, how does culture survive? How do values live and breathe? How do complex organisations thrive?
World Vision Australia's Stephen Hanlon holds a strong and focused view: it all comes down to behaviour. It's about what every manager and employee and volunteer does, every day, that serves to enhance and embed the culture or conversely, undermines and diminishes it.
"We are living in a world of profound change. Business models everywhere are being challenged and this is true in the not-for-profit sector also", notes Stephen. To begin with, the sheer volume of charities struggling for attention and support is mushrooming. A plethora of options is available to donors that range from local support groups to emergency relief efforts to global community programs.
Add to this the changing donor mindset toward the donation experience. "Supporters are increasingly more discerning and many want an immediate and direct line of sight from their donation to the beneficiary", says Stephen. "There is such competition for charity funds. For example, by donating $25 to a micro-financing program in Southeast Asia, a local mother can buy a sewing machine that will immediately generate income for her family and contribute to the community. Donors are drawn to projects that have a direct impact and to which they can make a personal and emotional connection. Of course our child sponsoring programs continue to be core to the World Vision proposition, but we recognise that our current and future supporters have a myriad of worthy sponsorship opportunities."
We are in a dynamically changing world and we need to build sustainable change into our operations
"We are reshaping our focus from being product-centric, that is our sponsorship programs, to being supporter-centric, focused on our donors. This is a fundamental shift as we recognise that the best way to deliver our services to their beneficiaries is to protect and build our supporter base. But it is quite challenging for many of our employees, whose motivation and passion for World Vision relates to our activities in the field, more so than our fund-raising work behind the scenes." That said, the core tenets of the organisation's culture remain the same: honesty and trust. "With these values, we build strong internal and external partnerships and we demonstrate our values through the behaviours we model. We are in a dynamically changing world and we need to build sustainable change into our operations", says Stephen.
100 Small Things is World Vision's way of supporting managers and employees with the small but important steps they can take in their roles every day to promote and sustain change. "We use storytelling to reveal the symbols, rituals and behaviours that we desire and define daily actions that will build sustainable change. For example, if you need your team working in a more structured way, is your own desk clean when you leave in the evening? Or if you want more innovation, are you walking around the lake and encouraging fresh thinking and active contributions?
Social networking technologies are also beginning to play a role in the enterprise. "We introduced Yammer to increase idea-sharing and team collaboration. Successes include the active posting of blogs and articles that are useful to a wide audience. It's also been great for transparency and creates a social platform for our leaders to share information, answer questions from employees and increase their visibility."
However there remains some way to go to release the potential for social collaboration that such technologies offer.
It's one thing to have social connections, but something else to really be connected
"It's one thing to have social connections, but something else to really be connected," notes Stephen. I see it as the difference between being relational and having real relationships. The latter requires trust, developed and reciprocated over time; the former merely acknowledges a shared association without any necessary commitment." To truly benefit from online social collaboration, Stephen recognises that employees need to trust that the environment supports open communication. "Views and opinions shared online are public and permanent and not everyone is comfortable with that."
Technology is paving the way for organisations to engage and connect with their stakeholders everywhere. The not-for-profit sector is no exception.
---
About The Author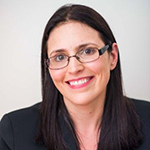 Alison Brady
Head of PageUp Talent Lab, PageUp

Alison leads PageUp Talent Lab and is responsible for research in the field of strategic human capital management. She has more than 15 years of experience delivering organisational development solutions, consulting and advisory services to a diverse range of companies. Alison is a Registered Psychologist with a Masters Degree in Organisational Psychology.