By: Sylvia Vorhauser-Smith, SVP, Global Research, PageUp
Posted on 15 Oct 2015
The stakes are high. Higher than they have ever been. Especially for leaders. When I recently caught up with Dr. Peter Fuda, we spoke about the changing world of work and its implications for leadership. "We are working in a radically altered world," he notes. "The size and scale of the disruption is growing at an exponential rate. The tendency for leaders is to react to that anarchy by attempting to control it – with systems and structures and processes – in the hope that they can 'manage it out' and everything will return to normal. It won't."
Dr. Peter Fuda heads The Alignment Partnership, a leadership consultancy that examines the change-related disruption gaps inherent in the workplace. Peter defines this gap as the difference between the 'noble intention' of leaders, and what they actually do. He observes that the greater the level of disruption, the bigger the gap becomes. Sometimes it's a chasm.
We are human, and therein lies the challenge. It comes down to this: we judge ourselves by our intentions; we judge everyone else by their actions.
Peter authored Leadership Transformed and is a renowned speaker at global CEO conferences and forums. "Take integrity," he says, "a value that appears on almost every organisation's list. I can stand in a room before 1,000 executives, ask them to close their eyes and give me a show of hands if they believe themselves to be a leader of high integrity. Every hand goes up. When I ask the same group to close their eyes again and raise their hands if they believe their peers and colleagues to have the same high standards of integrity, one in three hands go up. We all fall victim to the unconscious bias of judging ourselves by our intentions and others by their actions", says Peter.
What makes for good leadership has common characteristics around the world. Wherever you go, leaders want to motivate their teams to set and achieve worthy goals, bring their whole selves to work, be creative and build collaborative partnerships. We all have the same picture for what constitutes good leadership. But business success today and especially in the future is not just about good intentions, rather, it's about alignment.  
"Alignment means that people's intentions and actions are consistent and that they lead to a successful business outcome – you achieve your goals, the company hits its business aspirations." Which is easier said than done and becomes particularly tricky for leaders.
"One of the big leadership fallacies is that by virtue of their position, leaders have all the answers", notes Peter.  "Even the best leaders have their limitations and their strengths, when overplayed, can become a weakness. Take a strong leader that is very demanding and sets high standards. That is good to a point, but beyond this, can become overwhelming and exhausting, and even stifle the organisation."
Seriously. Everyone laughs at your jokes. You become the business equivalent of a celebrity
Another real challenge faced by executive leaders is the filtering of information and opinions as teams around them aim to remain politically correct. "In many instances I see that the higher up in the organisation you are, the funnier you become. Seriously. Everyone laughs at your jokes. You become the business equivalent of a celebrity. It's essential that you can cut through this feathering to see and hear what you need to, not what people think you want to."
Peter believes that the critical measure for alignment is leadership impact. If an organisation is aspiring to double-digit growth in a depressed market for example, a very high degree of leadership alignment is required. But getting leaders to focus on how their actions are producing a positive leadership impact is not easy.
Traditional tools to assess leadership styles and traits that measure self- perception and compare this to the perceptions of others, fall short. Here's why. "Say I am a maniacal, despotic leader and I answer one of these questionnaires truthfully – it tells me I have a highly aggressive leadership style. The 360-degree respondents also rate me as highly aggressive, so our perceptions are congruent. The key takeout for me is that I have a high level of self-awareness – but I have no real impetus for change."
Framing the question around leadership impact makes all the difference. "Now, if asked, ideally, how would you like to motivate and encourage others? And the feedback clearly shows that my actions are counter-productive to this, I see a problem. I experience cognitive dissonance and am motivated to change."
In most organisations, HR is heavily involved in leadership development. Peter believes that the focus and measures associated with many leadership programs are skewed and ultimately ineffective. "Typical leadership development programs are designed to build skills and capabilities and their measures focus on attendance and behaviours. Leadership alignment on the other hand, simply measures business impact – did you hit the business goal?"
In the high stakes business world now and in the future, Peter insists that leadership impact has never been more critical. The best HR Directors know they need to work as advisers to business leaders to enable them to lead effectively. Great businesses have leaders that make a great business impact.
____
About Peter Fuda
Peter is a prolific change agent, and a globally respected authority on business and leadership transformation. Peter and his team at The Alignment Partnership (TAP) have created some 30 published case studies of business transformation, and more than 500 individual case studies of leadership transformation around the world. As a thought leader, Peter's research and approaches to transformation have been published in five continents. Peter has completed countless speaking engagements, is a regular commentator across print, TV and radio media, and his doctoral research is now required reading at universities from Taiwan to the USA, including at Harvard. Peter is also an Adjunct Professor of management at Macquarie University.
---
About The Author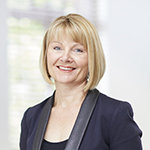 Sylvia Vorhauser-Smith
SVP, Global Research, PageUp

Sylvia is a regular speaker in the field of human capital management and neuroscience and drives research and thought-leadership at PageUp. She has more than 25 years of experience in corporate and entrepreneurial business environments, including positions as Head of Selection and Development at Westpac Banking Corporation and Human Resources Manager for Citibank Limited.