By: Karen Cariss, CEO and Co-Founder, PageUp
Posted on 09 Oct 2015
In this short video Karen Cariss wraps up the key takeaways from the first PageUp Talent Lab Forum in Melbourne held this month, which brought together HR Directors and thought-leaders from some of Australia's leading organisations.
In answering the question: In a hyper-connected world, is HR disconnected? Karen says the answer is both 'yes' and 'no'!
Here's her take…
HR is disconnected:
When you consider the speed at which HR is embracing change, adapting practices and aligning practices to have a unified approach to managing talent, HR is not aligned to the speed of change going on around us.
For example, some of the technologies we take for granted to manage our personal lives, our diets, our fitness, we can't get access to when managing our careers
HR is not disconnected:
On the flip side, there is a great level of awareness among HR around the challenges ahead. The conversations are happening and there's a great level of enthusiasm to address them and design a world for tomorrow.
Karen says it's now all about the execution.
We know what we've got to do, we know why we've got to do it, and now the tough bit is about executing on that in a very challenging environment.
Tell us whether you believe HR is ready to take on the future and leave your comments below.
---
About The Author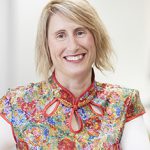 Karen Cariss
CEO and Co-Founder, PageUp

Karen Cariss is one of the founders of PageUp. Today, Karen is a key driving force behind the success of PageUp, setting the strategic direction of the company as well as overseeing internal activities to ensure synergy of all divisions. Karen's extreme passion for the company is evident in her work and attitude, which has been publicly acknowledged by being listed as 28th on BRW's Top 50 Female Entrepreneurs in June 2006 and winning the Ernst and Young 'Young Entrepreneur of the Year' for 2008 and the Victorian Telstra Womens Business Award in 2009.