By: Sylvia Vorhauser-Smith, SVP, Global Research, PageUp
Posted on 18 Sep 2015
In Talent Lab 1 we seek to answer the question:
In a hyper-connected world, is HR disconnected?
Here's why:
Only 18% of organisations host their HRM applications in the Cloud.*
74% of Australia's Top 100 company career sites are not yet mobile-optimised.**
Only 34% of CEOs believe HR is well prepared for transformational megatrends on the horizon.***
Never has access to and adoption of technology been more ubiquitous. Never have the transformational possibilities of advanced enterprise technologies loomed larger. Never have CHROs been more under fire to connect the workforce to business imperatives.
The issues being explored and debated by our HR thought-leaders as part of Lab 1 include:
THE ELEPHANTS IN THE LAB
THE BARE MINIMUM. Despite achieving first level automation and process efficiencies, HR has failed to optimise fully integrated HR and Talent Management systems and unleash substantially improved workforce planning and business decision-making power.
IT'S VUCA OUT THERE. In a Volatile, Uncertain, Complex, Ambiguous (VUCA) world, few HR players are on top of technology-led workplace transformation. Look to the impending impact on the workplace of the future of robotics, freelancers, virtual workers, wearable devices, 3D printers, collaboration software and gamification.
A QUESTION OF ABILITY. The lack of STEM capabilities in the HR skill-set acts like a ball and chain on HR's ability to champion innovation and apply advanced HR business intelligence.
EXPERIMENTING WITH POSSIBILITIES
 A NEW WORLD OF WORK. Occupations and workplaces are reimagined as hundreds of today's jobs face extinction in the shadow of human progress. Millenials are reinventing their relationship with work – think meaning, transparency, speed and digital.
The convergence of advances in cloud, mobile and social technologies will smash organisational, cultural and national barriers to reshape how, when and where people work.
ROBOTIC PROCESS AUTOMATION (RPA). HR functional automation will soon go well beyond the transactional and unleash a new breed of talent scientists and workforce strategists.
 So is HR disconnected, what's your view?
________________________________________________________________________________
* Source: CedarCrestone 2014 Global Human Resources Best Practices
** Source: PageUp Global Research 2015 Mobilise Now Australia
*** Source: PWC 2014 17th Annual Global CEO Survey – The talent challenge
---
About The Author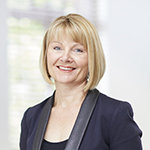 Sylvia Vorhauser-Smith
SVP, Global Research, PageUp

Sylvia is a regular speaker in the field of human capital management and neuroscience and drives research and thought-leadership at PageUp. She has more than 25 years of experience in corporate and entrepreneurial business environments, including positions as Head of Selection and Development at Westpac Banking Corporation and Human Resources Manager for Citibank Limited.