By: Trish Unwin, General Manager HR Business Services, Coles
Posted on 11 Sep 2015
The Gist
HR often implements solutions that deliver a mixed bag of tools that don't talk to each other.
 Companies today must embrace the solutions that provide an enhanced end user experience.
 Key to success is keeping the tools simple enough that people want to use them.
Is HR disconnected?
It sure seems to be going that way, according to Trish Unwin, Transpacific's Executive General Manager People, Environment & Reputation "A big part of the problem is that we're relying on tools that don't always deliver the innovation and efficiency promised because the user experience is clunky and we have over-complicated it. Who cares how beautiful a piece of HR technology might be: it will be ineffectual if seen by employees and managers as just another thing HR says they have to do.  The key is to make sure the tools we introduce are as easy to use as possible, that they enable the employee and manager to deliver value, and as they move from one to the next, these tools connect in a way that makes sense from the perspective of the user, not HR."
If anyone knows about driving efficiencies, it's the HR leader of a company servicing over 80,000 customers with 4,200 employees from more than 200 sites and depots across Australia. Transpacific leverages over 50 technical treatment and processing plants and more than 45 resource recovery, recycling and baling facilities across Australia, making it the country's leading recycling, waste management and industrial services company.
Unwin laughs when she comments that "HR people are notorious for redesigning their own versions of previously invented tools as a way of demonstrating value.  I certainly have fallen victim to this. Our propensity to customise, to build 'best practice' solutions, sometimes in isolation of the other processes, often adds complexity at expense of an easy user experience."
HR people have become more enamored with the sizzle than the steak
Citing that HR professionals seem to have become more enamored with the sizzle than the steak, Unwin points to individual recruiting systems, performance management solutions, workforce planning software – none of which map to seamless workflows or talk to each other, making it a very disjointed experience for an employee or manager.
"The question of whether customizing creates value is readily seen in the example of businesses defining their own set of competencies versus using a standard suite of competencies readily available in the market.  Chemists don't redesign the periodic table for each new experiment, rather they use the already defined elements in the periodic table to help them explain what is going on. There's no benefit in redefining carbon – but so many HR professionals are wasting valuable time doing so.  I'm a big fan of using proven methods and tools."
The future of HR might be bleak if the function fails to change, she observes. "It's at a crossroads: the future could either be a HR function that is marginalised and/or outsourced, or one that is viewed as a key source of competitive advantage. Getting the core architecture of HR and its investment roadmap right is paramount. Much the way that IT previously had a disparate approach to systems resulting in lots of one-off solutions which didn't talk to each other.  IT has since evolved to a systems architecture approach, challenging business to consider connections as importantly as individual components, and all with an end-user in mind.  HR could learn a lot from this approach when considering people processes and tools."
Getting the core architecture of the function and its investments is paramount
As individuals we have a huge appetite for whatever is the latest technology…be it a phone or tablet. Our comfort with change in the technology space has never been greater. This is good news for HR provided we keep the tools clean, crisp and connected and as much as possible, on platforms our employees enjoy using.
HR needs to stop confusing employees and make sure the tools are clean, crisp and connected
Unwin shared that her organisation is using Mood Ring, an employee engagement survey app that has received a very positive response from Transpacific's employees on how easy and engaging it is to use.  "Our survey response rate leapt from 51% to over 80%, and we received lots of unsolicited positive feedback."
Unwin concluded that a company's talent and capabilities are the keys to unlocking its competitive advantages, but HR doesn't own the keys to that kingdom. "A great manager is an attractor and developer of talent, not HR." While not ready for something as seemingly simple as the driverless car, she is ready to make the complicated simple so the people for whom HR creates solutions actually want to use them.
---
About The Author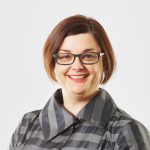 Trish Unwin
General Manager HR Business Services, Coles

Trish has more than 20 years of human resources experience gained in a range of senior roles in Australia and Asia. Prior to joining Coles in 2016, Trish was the Director of Linea Solutions, in HR executive roles at Transpacific Industries, Australia Post and Mars Incorporated, and a Consultant for KPMG.