Performance Solutions - Fouth row_two columns
Performance Features
Innovative journaling and collaboration tools
Support constructive manager-employee performance discussions with real-time journaling and store feedback from 1:1 discussions in the cloud. Get a well-rounded view of an individual's performance and invite feedback from multiple managers with 360 Review and multi-rater feedback tools. Attach feedback to an employee's review with social collaboration and hashtag features for easy tracking.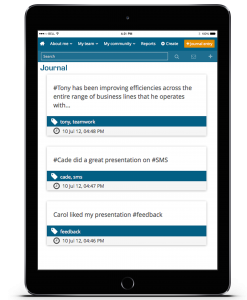 Anytime, anywhere performance management
Access performance reviews on-the-go, rate performance, and provide feedback when and where you want to – whether via mobile device, online, working remotely, or during flight time. PageUp's Performance Management software features non-internet dependent review capability making it easy to drive a high performance culture everyday.
Streamline performance management
Make the entire performance process simple with automated bulk 'kick-off' capabilities. Administrators can perform multiple performance processes at once, whether managing probation periods, performance appraisals, or assigning tasks. Save time by auto-populating objectives and competencies from employee role profiles, automating review reminders and capturing performance feedback in one place.
Define success with flexible reporting
Identify employee performance gaps at a click and enable early intervention with highly customisable reporting and analytics dashboards. Measure performance against business objectives, build reports for different audiences with PageUp's drag and drop interface, and schedule reports for automatic email delivery.
Take the guess-work out of pay-for-performance
Reward top talent fairly and retain them with PageUp Compensation Planning. Reduce business risk with one seamlessly linked performance management and reward system and provide managers with real-time visibility of compensation budgets, including base pay and bonuses, in one-view. Now managers can facilitate intelligent pay-for-performance discussions that link to organisational goals.